Kim Thiara shows – not just tells – how to tackle life head-on, personally and professionally and now celebrates three decades leading a company started by her father. 
Thiara is the driving force behind a company who is making great strides in the Canadian Manufacturing World. 
She is a relationship-builder and a proud mother and grandmother, who leads her tribe by example. This woman shows up – with a welcoming and approachable attitude.
She understands the Sign Up Suit Up and Show Up approach to life!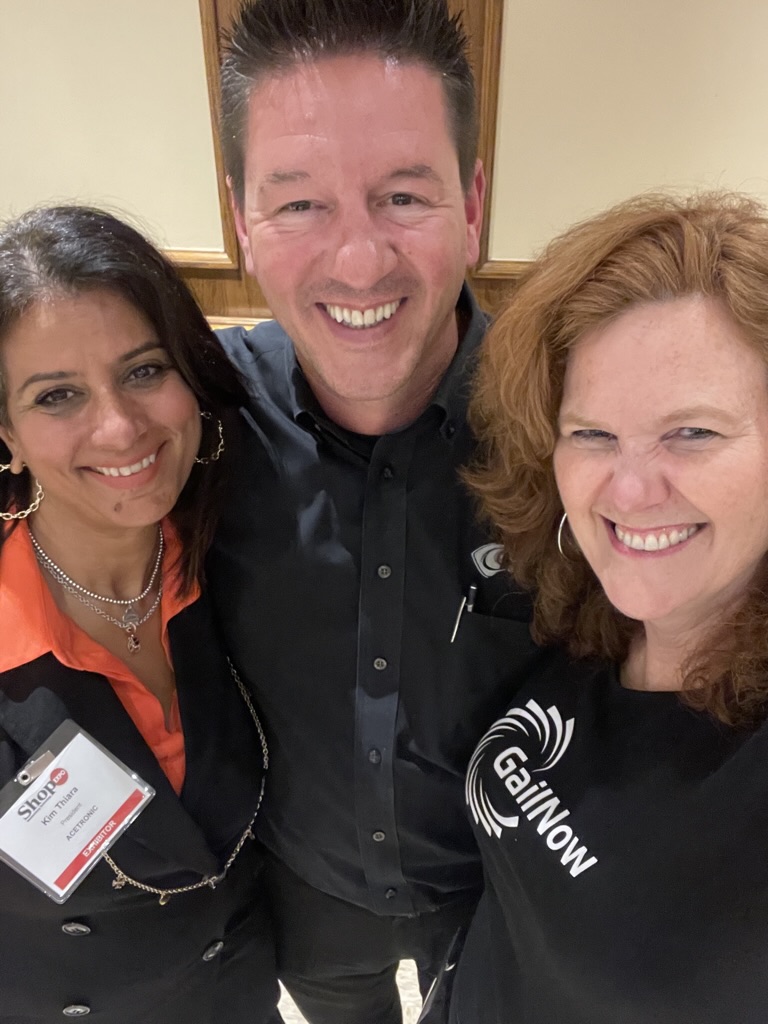 Kim Thiara, Brian Bendig, President of Cavalier Tool and Manufacturing and Gail Robertson, GailNow 
Kim is the CEO and President of AceTronic Industrial Controls Inc., a company that was started by her father in 1983 after he recognized a growing need in the Plastics Industry for a reliable partner in repairs for temperature controls and custom electrical solutions. 
AceTronic manufactures, services and distributes to the plastics molding industry:
manufacturing custom parts and equipment to support North American plastic manufacturers

servicing and repairing plastic manufacturing equipment and components

exclusively distributing through alliances with

Bohler-Uddeholm

,

Progressive Components

,

Slide

and

Smartflow
Almost 40 years old, the company has grown and continues to grow in becoming a leader of comprehensive manufacturing and distribution for standard and custom solutions in the plastic industry, as well as an extension of their Customers' Preventative Maintenance program team by staying true to their origins.
As she tells it, her father became overwhelmed with the paperwork for the business in the late 90's and asked her to help him with that, including the invoicing. Over the years, her position at the company evolved into sales and she learned a lot about the roles she took on, the company her father had started, as well as the industry it was part of by asking questions. Through her helping with the sales, they identified gaps that their customers were experiencing and expanded their offering.
Eventually, Kim purchased the company from her father and with her team, continued to diversify their offering and increase their manufacturing capabilities. In conversation, Kim honestly states that she never intended to take on a full-time role at any company, let alone the one owned by her family, but it was a gradual process that took her from being a stay-at-home mother to 4 kids, to eventually becoming the CEO of a company in a very male-dominated industry AND loving it! In fact, she has been part of said company for almost 3 decades.
According to a report published in June of this year on the Statistics Canada website, businesses majority-owned by women accounted for 17.5% of all private-sector businesses in Canada in the second quarter of 2022. They are more prevalent in service industries, such as health care and social assistance; professional, scientific and technical services; and retail trade.
Despite that, Kim has demonstrated throughout her career, the POWER of showing up!
Check out this TikTok as well to show how much fun Kim and Simmie can be – and well, maybe with a nudge from GailNow!! 
AceTronic is proudly associated with APMA, Automotive Parts Manufacturers Association and Kim serves on the Board of Directors for this association. It is Canada's national association representing OEM producers of parts, equipment, tools, supplies, advanced technology, and services for the worldwide automotive industry. 
AceTronic is also a proud member of the Canadian Association of Moldmakers (CAMM). As the leading national association representing Moldmakers, CAMM strives to serve the community with the expertise and the products to serve the Moldmakers Industry. CAMM obtains their direction through an 18-member Board of Directors (which includes Kim, who is now the Chairperson), each of whom is a leader in the industry.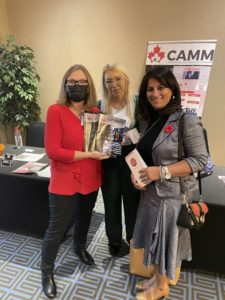 In a recent interview on #ShowUP with GailNow, I sat down to talk with both Kim and her daughter, Simmie Thiara, who also works in the business, as the Director of Strategic Development & Sales. She shared that she worked in and outside of AceTronic for many years, including working there during the Summers while she studied. She now has been working in the business full-time for about 6 years in her current role.
She shares that her mother is modest, but has really built up the business because of her nurturing nature as she has nurtured her relationships with her customers, partners; everyone in her network!
Nowadays, many people are afraid to show up on social media, regardless of the platform, even though it has been proven to be an essential component of personal (and business) success today. 
This could be because of various reasons, such as:
Fear of being stalked

Fear of being judged / criticized

Fear of being catfished

Fear of being ridiculed
While Simmie was on maternity leave, Kim shared with her that I, as well as others, had been encouraging her to start sharing videos. Both of their approaches to sales have always been very hands-on, on the floor, right next to the machines. 
As Simmie tells it, "…a lot of the time you need to be by the press in order to assess what's going on and what the customers' needs are." However, due to the pandemic (and the change in protocols that came with it), interaction with others is not the same, creating a gap; prompting her to look into the idea, "…because people still want to do business with people."
So, they started doing video; product specific videos, promotional videos, informational videos, or just general sales calls, sending them by email and now they're starting to share more on LinkedIn.
She also shared they are perfectionists and that is hindering them from producing content because they're so critical of what they're putting out. A recent conversation that Simmie had with someone in their network underlined something pertinent for her: they are the experts and therefore just need to create videos!
Not long afterward, Simmie encouraged Kim to create and post a video regarding a large inventory shipment that AceTronic received, saying, "Just do the video. Just do it. Don't be afraid to, just do it!" 
Although she was hesitant, Kim posted it and Simmie says, "… it was great and it was real. I think the thing that's the most important is that we have to remind ourselves (and I'm saying this because I'm also reminding myself), that people want to do business with people, but people want to do business with real people. They want it to be very natural and so, don't try and overcompensate; don't edit it, just put out the content."
Kim shared that the video kind of sat at the bottom of her screen all day before she could actually post it because, "I was really looking at it and re-listening to it and saying, oh, but you can hear this in the background; oh, maybe I should have stood this way. So I just spent the day going back and forth asking myself: to post or not to post? Finally I just pressed it really quickly and let it go. I thought, what's the worst thing that could happen? Honestly, you know, okay, so people say you suck at it, it's bad. Okay, so we won't, I won't do it again. That's not gonna mean, I'm gonna stop doing business, I'm still gonna continue doing business. But then if this goes, well, then okay, then now I can start experimenting a little more. So it was, it was very much out of my comfort zone.
Like Simmie said, "Just do it!", so I did and got very, very positive feedback! So, keeping it real is very important. Yeah, we're real people doing business with real people. We're not professional videographers, we don't have a studio, we've got an office and we've got a plant; we don't have lighting systems, we don't have backgrounds. So just use what we have."
In all my work across various industries and no matter which hat I wear, I have realized that no one is alone in the fear of social media or video! As I now help others through my company (GailNow) to show up and tell and share their story, I can say that mindset is EVERYTHING! We must decide to sign up (which entails a mindset adjustment), then suit up (prepare for what we want to achieve), before we can truly show up!
And even Simmie starred in a TikTok early on with me – and I always am impressed with people willing to Show up!  
It was obvious to me that Kim and Simmie had signed up, then suited up (by talking about it,  gathering information, doing research) and what I was most impressed with, is that they've used video through their emails, not just on social media, when showing up!
In life, there are so many things we can do; write a book, climb a mountain, start a family, carry on a family tradition, build a community, scale a business or even be on video, but none of it can ever be done without showing up, which is not always easy, but incredibly powerful when you do!
Photos from a recent Canadian Association of MoldMakers Mix and Mingle Event!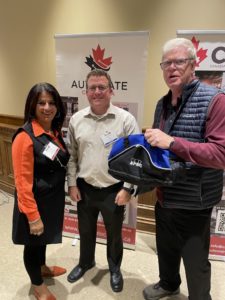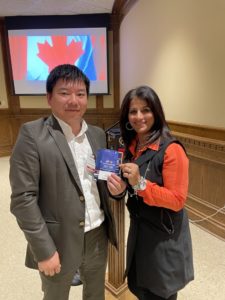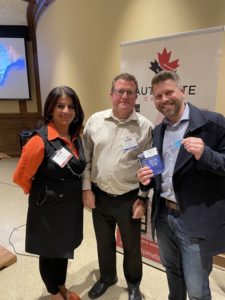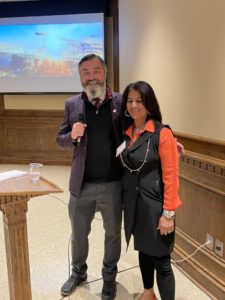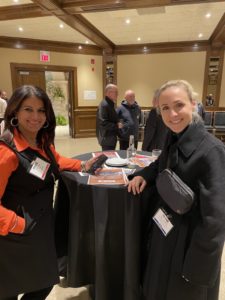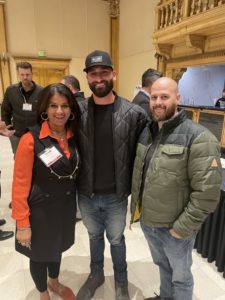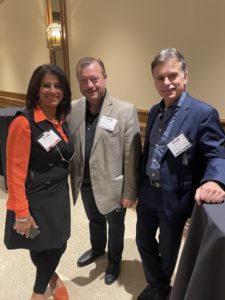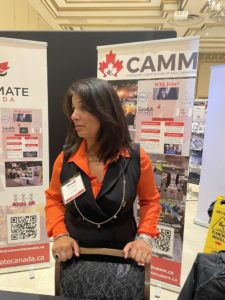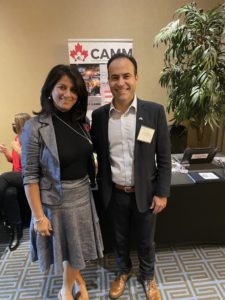 #ShowUP with GailNow and guests, Kim & Simmie Thiara
Link to YouTube Show: https://youtu.be/sZBPmt9E7UE
TRANSCRIPT – From Otter.Ai 
(Direct transcription- non-edited version) 
SUMMARY KEYWORDS
people, manufacturing, talking, kim, tick tock, customers, shimmy, women, company, golf tournament, tiki hut, business, story, linkedin, mold, transferable skills, post, sales, hear, mom
GAIL 00:21
Hello, everyone and welcome to show up with Gil now. I thought this song was so appropriate. This girl is on fire. And we have some great guests. Today, I am talking about stories, the power of stories. Now manufacturing, I find that most manufacturers really struggle with how to both tell and share their story. So that's where I come in. My name is Gail Robertson with gale now and I'm the Chief curiosity officer. And I teach manufacturers how to sign up, suit up and show up to help tell their story in this virtual and digital world. The world has been changing for a while now. But especially in the last couple of years, there is such an urgent need to be able to figure out ways to share our stories online and use all these tools at our disposal. So beyond doing cold calls and emails, there is an opportunity to use social media in a new and creative way. So today, we have a couple of great guests and they definitely have so many great stories and we were just talking about how we connected and how we met so we're going to hear more about that. And before I bring them on stage because this is the first time we're having a mother daughter duo today. But I think I want to go back a bit to the summer and this is going to be an intro video to one of our guests because for those of you that know me and follow me you know that well fun is also a part of how I like to do my business and how I like to show up because well don't we all like to have a little more fun in our life. So let's have a little bit of fun with our guests today like your booth. That is to see La la la la la la la la la la la. Okay, let's bring our guests first up. Shimmy Tierra is in the house. Welcome Shimmy Shimmy Shimmy Shimmy. Here we are there shimmy. Hello series. Hello and let's bring your mind Kim. Hello Kim.
KIM 04:35
Hey, go girl. Go girl. Hi there, um,
GAIL 04:43
that was in my earlier stages of Tik Tok too. So and I have one of the things that I love about people who show up semi high fives you pull prompts when I said let's do a tick tock you're like yeah, so and you jump right in and that says so much about What we're going to be talking about today because it's all about, you know, getting outside your comfort zone taking some risk and showing up. Before we do that, though, I do want it. We have some people joining in in our comments. And I know by the amount of people that have been signing up to come and hear this show today that you both have a strong following. So we have we have John Bufalino is in the house and some of the people that I'm mentioning, I met through through a proof that a Twitter chat that I'm on call USA manufacturing our we have David Chrysler also met I think, I'm not sure. Dave I feel like Dave and I go back so far that we just know each other for so long, but we've met through yet. Let's go Gail. Thanks, David. We have and I'm gonna see if I'm missing any comments because we had some people earlier start Oh, my goodness, I missed Oh, we were gonna go back to the start because there's I want to mention Ali Donnelly's in the house and Ally is a young woman in manufacturing. She is in the electrical trades and just a dynamo. She was on my show previously as well and really great that she could stop by so John and we have Janae Leslie Bergland who is the president of Canadian Association lawmakers. Hello, Janine, welcome. We have Oh, Gabe Leal. Now gay is an amazing supporter of live streaming. He does a lot of work on LinkedIn and he's also come over to Twitter. He's come over to the Twitter side so I'll be seeing them there. He says he's all pumped up now. We have yep, this girl is on fire. I think he once told me that. There was a song that should be my song and I wanted to share that song with both of you because I think both of you are on fire as well. Let's see we have a Gabler because I am so amped up, but I want to punch something really hard. I don't know where that gave. We definitely have to do a Twitter space. I think we will have some fun there. So yeah, so David, John. Wow, Elizabeth Elias Hernandez is also in the house. Lit we'll get back to Elizabeth I met shimmy. That was a person that he was at a networking event that Elizabeth Elizabeth is with her co marketing. She does great work with a lot of local businesses here in Windsor ethics. gave Israel he says you sounded like Justin Bieber knew as much we have some to see already. It's getting to be fun. Oh, we might kick Hello. He says which one is the mother, which is the daughter? Oh, let's not know that.
KIM 07:45
That's flattering for me. I'm happy for you. But I'm not. Yeah, I'm not sure.
GAIL 07:54
Well, he doesn't know maybe your mom. No, I think he knows. I'm thrilled. I think he likes to parade some favors there. So David wrote this as he wrote old souls gear up. That's how I'm able to channel my inner game. He uses that term because he's on Tik Tok too, and doing a great job. Let's see we have oh, Sara clays here. Oh my god. I just heard her on the Tim and Jim show earlier she says yet we're following each other around LinkedIn. And again, the power of social media powers LinkedIn. I just connected with her. And here she is at a live show today. Sarah, thank you so much. That's amazing. Bonnie Sussman is strong. And you also say Hello. Wow. We will get to the show everybody but these comments today are just blowing up my body. I also know from networking and for anyone not connected with her. I don't know. Kim, are you connected with Bonnie? I don't think so. Okay, if you're not definitely today to connect with Bonnie she's doing some amazing work on how to use video and using social media so we'll be getting to that. Oh my gosh. We have so far Janine says. They say it's so good. I want to leave. Janine has great stories, too. And we have lots of humor today. So okay, I think Sarah loves the orange vibe here today. She was wearing it and I noticed her orange in the background today. So yes, and orange in your backyard, Kim. Okay. Thank you for all of the comments. Please continue to network and drop comments. And I'm going to try to circle back a bit in a while. But we do want to get to our guests today here more. So let's start with Kim. Can you ace tronics? Can you tell us a bit about the company just so people that may be listening right now we're going okay, you're from this company, you're in the plastics world you're in manufacturing. Tell me for those in one on one kind of what this company does and what it's all about.
KIM 09:47
So I'll just keep it very simple because I think you've got quite a diverse array in your audience. Yeah, so basically a Stronach focuses on companies that are molding plastic. parts. So we supply through distribution as well as manufacturing, components and control systems that help to regulate the temperature of the plastic so that our customers can mold parts. So we deal primarily with molders. So whether they're injection molders, blow molders, extrusion companies, or any types of plastic molding, that's pretty much our client base. And then we have some products that also appeal to the mold makers. So yeah, that's, that's, in a nutshell,
GAIL 10:33
I like that because it's about control. So if we had to sum up in real sensors about controlling the temperature of the plastic, because that is so key, because how long it takes can really impact business. That's what I know, because I work more in the mold making side and I know they have to make the tools and get the tool set up so that when you pour the plastic in where the older posts, the plastic in, all of these pieces have to work together. So
KIM 10:57
okay, so our components fit in line fit and connect to the molds. So pretty much the majority of our customers have molds. So we control what's happening in the mold as far as temperature is controlled, concerned, sorry.
GAIL 11:12
Well, I love this because I am getting more and more into the world of plastics. And that's becoming more of my niche and focusing on working with companies in the plastics industry. And we'll maybe get to this at some point today to talk about, you know, the value of plastic, because we hear a lot about banning plastics, when what we really need to focus on is the disposal of plastics and how we dispose of them. Because one thing I have learned as an outsider, initially, this industry and now being more immersed in it is that we can't live without plastics. And our role is just like, we're nowhere near that, like medical devices. I always tell people to scan your room, scan every room in your house and your car and every device that you use and try to find. Think of what happens if plastic was to decide, do we really want to ban them? So? Yeah, so I'm going to be doing some more work on that. Because that really excites me as someone coming from outside this world and looking at, you know, changing the story to we really need to tell that story. Alright, great. So Kim, before we get to Simmie, I also want to talk about how you got into your business, initially, it was owned by your father. Correct? And can you maybe just give a little bit of a summary and then we're going to switch over here. So Simmie got into the business because they, as a mother daughter duo, it's really fascinating that you are doing so much great work in encouraging women and showing by example of the great work you're doing.
KIM 12:43
Okay, so basically, my dad started the business, and it got to a point where he couldn't handle that he couldn't manage the paperwork. So he gave me a call and said, Can you come help do my paperwork for me, you know, the invoicing and whatnot. So that's how it started. And then just, you know, fast forward to 26 years later, I'm still here. But basically, it was just to help him with his paperwork. And over the years, it evolved. You know, I started doing sales, and through the sales, we started, you know, diversifying what we did as a company. And then I ended up purchasing the company from my father. And then we started to continue our diversification and, and, and increasing our manufacturing capabilities. But essentially, from the get go, it really basically was just to come in and help for a little while. I mean, I never, I never imagined that I would be sitting here today, doing what we're doing as a company and let alone semi my daughter working here at that, you know, that's just was not even in the thought process. You know, I was a stay at home mother, I had four kids at the time, I just had my fourth. And so I really didn't have time for a full time job. So yeah, it was just half a day, once a week that I was doing and it slowly went to two days a week, you know, then three days a week. And it just kind of snowballed from there. But I love it now.
GAIL 14:13
That is a great story and fortune. I mean, wow. I'm always impressed at you know, you know, because a lot of times, especially when it comes to the liter ratio, that still does fall a lot on women 's right to take on the bulk of that work. So that's amazing. And we have ally downs and way to go girls, my mom got me into trades so you are all awesome. I love this new store. And that's what I love about these types of shows is that it really shows you know, there are paths and it's not always easy, but there are, it's always good to see what other people have done. And Ali, I'm really glad that she could stop in today and talk about that because it's important to just share that. So Sammy, let's go over to you. We have more comments coming in and I'm seeing lots of networking going on in the comments which is fun. Right. So that will get us back to some of the comments after. So please continue the networking, shimmy. Now you got into wanting to tell your story of how you got into this business because you didn't initially start in it, right? You came in through a different route.
SIMMIE  15:15
I did, but it does sound a little similar in that the hours started creeping up and up. So I was in financial planning, and I was doing that for a couple of years. And mom was overwhelmed with a specific project. So I had freedom with my schedule to give her some time during the week. And so that's initially how it started. And the business really started snowballing. What are we talking about maybe 25th, teen 2014 I can't quite remember the year and we had acquired a couple of new distribution lines. And so anyway, so we got a little busier. And we had a GM come in to the company to offer some assistance. And he asked me if I was going to be a part of the business. And I guess I always took it for granted that it would be there. If I wanted to work there, buddy, almost put an ultimatum on me. And I thought, Well, I definitely want to be included. So let's do this. So I jumped in with both feet at that time after being in and out over the years, summertime gigs are just in between school or whatever the case was. And so yeah, I think it's been six going on six, or I can't even remember six years, maybe full time in sales. And the story is what drives me both myself and mom, our story's a strong one. It's a strong one for us anyways, that everybody else is not interested in the story. It's what keeps us going every day. And I think she's been so modest. Yeah, she started out helping with paper, and just the admin side of things. But it was really because she's a mother of four. And I've used this line before, but it's so fitting that her nature is to nurture and she nurtured every single relationship she had with her customers, with our partners, with anybody in her network. And I think that speaks to the strength of a strong person today.
GAIL 17:32
Simmie,  that is so true. What I have known about your mom, she is probably the most understated yet she would be definitely and I would know from a sales perspective, I can already know without a doubt that she is someone who would be the under promise and over deliver every time because you know what I've seen in terms of whenever any dealings so I'm glad you're here to say that and celebrate your mom because she definitely is a rock star that and I know we're getting sometimes I think a little bit of feedback. So I think we may sometimes mute your I think it might be your microphone, Kim. So just keep that in mind that we're not muting you, it's just a little bit of feedback. So we want to make sure we keep going strong with the sound so we hear all of this so we will also get ice. Janine just wrote that mother's skills help with all jobs equals transferable skills. That is so true. You know, so many women too. And I think this is an opportunity for any women listening or if you know of any women that read wants to re enter the workforce, there's so many opportunities in manufacturing. And I think women think well I've been out of the workforce I haven't this always gets me going they say I haven't I haven't been working meanwhile they've been home raising children and and that is such a significant job because you're doing inventory of inventory control scheduling, you know, you name it and Monster doing it and see me I want to get this in that you are a newer mom as well, right?
19:04
I am. Yes.
19:06
How old is
19:08
little guy? Wherever this is? Yeah, he's uh, his name's Danny. He's gonna be two in May. Yeah, wow. Two
19:23
What are you gonna say or can I say it to me? This is live number two on the way you heard it here first. Gale now lives.
19:45
I'm more of a private person. I don't operate on social media. So I really appreciate you announcing that. Thank you. Yeah,
19:51
it's it's family. It's got a family wherever they can start the gifts Florida. Oh, that's exciting. Yeah, did he say your little one was at the golf tournament scene? So that was it. Okay. Golf Tournament, I do want to address this because that's where we did the TIC stock video. And let's talk a little bit because there's so many great things about your story. But you know, today's show, we'll also be talking about the power of showing up, the power of connecting, telling the story, meeting people, both in person and on social media. And when I'm working with plans, a lot of times they think that it's like all or none as well. I'm either on social media or an immediate person, or they say, I want to go to in-person events. And one of the things I try to always stress is that you can do both. You don't have to, you know, stay at home and not be at events, but that doesn't mean you don't need to be social as well. So let's talk about the tiki hut and a little bit about you know, you made some connections. I don't know, maybe Kim, if you want to address that because I was there when people came by. And part of your sponsorship, I believe, was for setting up the TPM. So you want to get a little context about what the tiki hut is. And the golf tournament.
21:06
Okay, yeah, so just backing up just a little bit. So I enjoy golf, but golf, but I don't love golf, and I've been golfing. And I felt we, you know, had the opportunity to host one of the holes at the can golf tournament, which I must say, is organized by Mike Hicks from our camp Association. And he does a stellar job with putting that together. So he you know, he said, Can we have a hole available? Would you like to take one so we took the hole and it just happened to be hole number one, which was great for Ace. But I really wanted to make it a fun stop on the golf, run, walk whatever. So, you know, our general manager at the time, seismograph, he's also an industry veteran, and he said, Kim, why don't you consider a tiki hut. So we, you know, we've been doing that for I think, I think this is our fourth year now. But it just allows us the opportunity to kind of make it a little bit more fun and exciting. And there's a lot more opportunity for one on ones. And this year, especially given COVID It was like, Oh my God, it was like a break in the clouds. We got to go out for this amazing day and meet customers and potential customers, old friends. And this year, we had some great participants sign up for the golf tournament. And one group came through and before we sent me your I had even a chance to say anything. He walked up and he said, Oh my gosh, Ace Tronic Chem Tierra, I know you, you, you know your data. And he went through a whole bunch of things about our company and unbeknownst to myself, so he had to read about us on social media, which was great to hear.
23:06
That is, yeah, to me, I think you're still fine, I think I can still see you. Now that to me sums up what I try to always encourage in manufacturing is that you can still be out there you can still and then you can meet people because of social media because of the connections made there. And one of the things that now I know Ken may need to go off and come back in. So just you know we are live and Kim is actually on the phone today just to get a little background so we will keep discussing. In fact, now would be a good time to go back to some of the comments. Let's go back. We had Mike say we used to have a beer and a hotdog holder okay. It turned into a hot tiki, yeah. So it's evolved that I think one year you had margaritas another year has been for nothing else you should sign up for the Canadian Association will make his golf tournament because of the TV head because there's always a fun time there. And what I found really interesting was that interaction because I was there and saw that as well. And when you know those company reps came by and there was lots of talking and because of the LinkedIn connections, you know you're able to do some more follow up and it puts that personal identification. And let's go into let's see, we have quite a few comments here. I know Mark is molded into Marcus and has been at a few of our shows and he was also at the golf tournament so hello Marcus. Wendy STARCO Wendy Stark is here and Wendy is with invest Windsor, which is a great organization that does so much to support manufacturing. I was just on an early morning call with Wendy this morning. Hello Wendy. We have these. We have monthly 7:30am calls. And biweekly ones for any association will be made but I'm an early morning person so I like those early. meetings. Tracy Pringle was here as well. And she says breaking news. Yes, that's going to be a highlight of a big Symbian story. So we're all super excited for you. So, Rick Tomlinson, congratulations, shimmy. Hello, Rick. Now that is I don't know if I know Rick, so that must be that someone that you know?
25:20
Yeah, that's a good supplier of ours. Okay. Welcome,
25:23
Rick. I love when, you know, when guests also bring along new guests to my show. And I hope Rick, you can stop by again. And as I say a part of the show is to just celebrate manufacturing. And specifically, you know, more and more looking at the plastics industry. So thanks, everybody. For all of the comments. We have many more comments. And some of these are we've identified and said hello to some of the people. So thank you, again, everybody, for dropping in those comments. And we appreciate you all. Okay, so let's now talk about everything from social media to video. Because, Kim, you have done. I just saw your video on LinkedIn. So can we talk? I think you started with a video. So let's maybe go, let's take it back a bit and simply talk about the role of video when and why you decided to get into video use.
26:19
Well, that's gonna come back to you because while I was on, while I was on mat leave, mom kept messaging me saying Gail saying we need to get on video Gail saying we need to get on video. And I don't know how many emails and texts and all kinds of things I got regarding that. So I started looking into it. And yeah, as you know, we cannot see our customers like we used to see them. Kim and I are very much on the floor beside the machines. That's how we do sales. That's how we've always done sales. We like to be very hands on and a lot of the time you need to be by the press in order to assess what's going on and what the customers' needs are. And so how do you fill that gap? Because people still want to do business with people. So how do you how do you get around, not being able to get into places with all these lockdowns and just change protocols that a lot of the factories so we started doing video so whether we're doing product specific videos, promotional videos, informational videos, or just general sales calls, I guess we'll send emails or we're starting to get better at posting things on LinkedIn. We are perfectionists I've been told and that's actually hindering us producing content. Because we're so critical of what we're putting out. And just last week, I was on a call with somebody that mom put me in touch with and he said you just need to just make the videos, you are the experts, just make the videos so you're gonna see a lot more content coming out. But on that note we had a large inventory shipment that arrived last week. Mom shot me a message and I said just do the video. Just do it. Don't be afraid to just do it. And she did it she posted it on LinkedIn and in terms of video hesitancy I would say between the video hesitancy that's a Yeah.
28:37
Resistance real resistance.
28:39
Sure what so anyway, so she posted one on LinkedIn and it was great. It was real. I think the thing that's the most important is that we have to remind ourselves and I'm saying this because I'm also reminding myself that people want to do business with people but people want to do business with real people. Right They want it to be very natural and so don't try and overcompensate don't edit it just put out the content
29:12
you know one thing I will say that you are not alone. This is number one though the first step as my three step process is to sign up, suit up and show up so signup is the first step is that and that's where Kim Brock decided she wanted to do it. She wanted to make a change and I kind of forgot that. Yes, because I was talking about this, I think early on when I was first on the Canadian sustainable makers board when I was you know, and I still do I would say okay, broken record here. We need to do more soldiers, we need to do more videos. And obviously Kim was had signed up and then the suiting up really is that you started talking about it gathering information doing research and what I was most impressed with what you've done too is using video through your emails when you're setting up because a lot of people think the videos have to be only on social media. But there is such a great opportunity to use them. When you're sending out emails and you use now I think you'd use dub or Yeah. And there, there are quite a few things that you can use out there that are you can even use the free ones, and then you pay a bit more and get the logo removed. Right. So how have you felt? So you've had that positive feedback from a client? Do you have any more feedback from other people that have contacted you saying anything because of your doing video?
30:33
Well, I just want to. I'm just gonna jump in here, am I muted? My good. Um, I'm just gonna be perfectly honest. And say that I created that post for LinkedIn. And I have to say it was probably the whole day that it kind of sat at the bottom of my screen before I could actually post it. Because I was really looking at it and re-listening to it and saying, oh, but you can hear this in the background, oh, maybe I should have stood this way. Or maybe the box should. So I just, I spent the day going back and forth post not post and and then I just finally just said just, I just pressed it really quickly and let it go. I thought, what's the worst thing that could happen? Honestly, you know, okay, so people say you suck at it, it's bad. Okay, so we won't, I won't do it, I won't do it again. That's not gonna mean, I'm gonna stop doing business, I'm still gonna continue doing business. But then if this goes, well, then okay, then now I can start experimenting a little more. So it was, it was very much out of my comfort zone. But like I said, Just do it. You know? Well, like you said, so. Yeah. And very positive feedback, I have to say, very, very positive feedback. So keeping it real is very important. I think, like you said, Yeah, we're real people doing business with real people. We're not professional videographers, we don't have a studio, we've got an office and we've got a plant, you know, we don't have lighting systems, we, you know, we don't have backgrounds. So just just use what we have.
32:08
Ken, thank you so much for sharing that background to that story. And that's what makes I think what you're doing in your company, so successful is being willing to, you know, pull back that curtain and share some of that those you know, what you go through, because I'm sure a lot of people listen to it, maybe struggling even here, or this gets posted later, and someone watches this, can maybe say okay, you know what, it's, I can try that. And definitely, video is very powerful. And there's so many stats when it comes to LinkedIn only, you know, most people are consumers, not producers. So just by doing that, if you did one video that already has moved you up to the top of the list when it comes to it, LinkedIn will love that because they want to see more videos, they want to see more authentic content like that. So you will go up to the top of the list and be seen by more people. Because you're also feeding the algorithm, but with good content, right? So that's kudos to you. And you know, just like shimmy, you know, you step in doing that. The Tick Tock to it's the same thing. It's like, because you I mean, I have many drafts and my tic toc two, because I'll do like one Oh, that's like, because that'll say usually the ones that I think oh my god, because my son because that's kind of cringy and now we're like, yeah, it is crazy. Thank you very much. The crazy ones are the ones that tend to get the most engagement . Sometimes I like, especially when I do lipstick, I will tell you who's gonna like or.
33:45
But that's my dramatic side.
33:46
Yeah, I was gonna go way back when I was going into drama. So I often say, That's my outlet for getting that out of my system, you know, lip synching and karaoke at all those things. So we have Brian. Thank you. Well, and the other thing, too, is that I always want, you know, clients that I would work with that I don't expect them to do what I do. I mean, that works for me. You know what you're doing works for you doing some of the videos using W's and through email, and everybody needs to find their own path. There's really no one way and I have no cookie cutter approach to social media. Whenever I'm that's why, when working with clients, I'm very careful to look at that every client should have an individual approach because it's not like I say, oh, you should be on Twitter, you should be on tick tock you should be where your clients are, where you're going to have the most interaction and also, where you're going to commit to being consistent with your content. And a lot of times companies think, Oh, I have to be on every platform, and I actually try to pull them back from that. I mean, I'm on most platforms because I'm testing out something. So it's a different goal that you may have. So Brian wrote great work. Thank you for the insight Brian is doing for those of you who aren't following please go follow Brian because he does some great videos. He's also connected by doing videos and connects companies also to charitable organizations. And I first heard about him and saw him because of something he did with a Caterpillar tool. And I was just so impressed because he does some amazing content on video. So thank you, Brian, for always, because he's bringing a bit of fun to manufacturing.
35:31
Yeah, absolutely needs to be fun in manufacturing, but it needs to also be relevant. So that was my thing with semi to, you know, whatever content we do, it needs to bring value and insight or up someone's knowledge, whether it's our customers knowledge, or whether we even increase our own knowledge of what's out there. So just, you know, so whatever content we do post, it has to be relevant to our industry and what it is we bring to the table and and just help to even educate our customers on what it is we do. You know, so I think that really needs to be the focus. And like my last one, the whole, the whole premise of that was our, you know, there's such an issue right now with logistics and product and, and receiving items. And so we've acquired customers recently, by way of that simple fact that we have stopped. And so I think that's important to share with our audiences that you know, we're here, we've got enough healthy stock to get your orders out. So in this day and age, I mean, I've heard customers giving me insane deliveries for some things that they're waiting on. And, you know, production can't wait 16 weeks, because Oh, it's unheard of, you know. And so, yeah, it's a little bit of a tricky time right now juggling it. But I think, you know, you've got to do what you need to do for your business, but for content that needs to be relevant to your audience, I feel. So that's something that semis really trying to work on and, and feed, feed through our channels.
37:03
I really liked that comment. Yes, relevancy. And also, you know, by talking about some of these issues, a lot of people don't want to talk about the problems. But the more we can talk about, the more we can understand as consumers, because I now learn more about the supply chain. I had a new vehicle ordered last summer that was supposed to come in November. I'm not getting it till the end of February. But I'm not mad at my, you know, the dealer because I know that I understand how the supply chain works. And I think we need to do a lot more. Pulling out that curtain and sharing what's happening with supply chain, what's happening in industry, what's happening in manufacturing, so that more people, including your customers, everybody understands like, because I think you understand until it happens to you. And then I don't know, but I want my product now. Because I have to say this whole, you know, stream of manufacturing, there are so many dots that need to be connected in order for us to understand the bigger picture of how we're going to get those vehicles or how we're going to get those end products, right, whether it's a computer or, you know, products that we're going to need to for everyday life. So thank you. Oh, David still goes in the house. So yay, Damon. Hello, David. David's been a previous guest. He is such a great supporter of live shows. He just had Brian Vandaag on his show recently. For those of you who want to go check that out and hear his great interview with Brian Bending, president of Cavalier, which is one of my clients as well. And also my kick said good recognition for Brian Yes. And I want to do my picks. For those of you who want to ever know anything about the history of moldmaking in this world. He's the man he's the Wow, he knows a lot of stuff about this industry so and so impressed with the work he's done. He's, you know, with the golf tournament as well as Canadian association mold makers. So thank you to everybody that's commenting. There's more great comments. John Bufalino said something recently just trying to find his comment. I think he said I am not everywhere I am where I am needed. I love that. That's like it because that is so key, right? Like it's, you know, if you're going to be stepping out into social media, you know, be where you're needed. And I liked doing that. Yep. And now in terms of other transferable skills, let's go back to that, because that also, we can use so many of our transferable skills to help tell our story. And I think it can, can you maybe it's something semi alluded to about, you know, how you got involved with a company, what would you think of some of the key transferable skills that you learned when you were starting out in the company that you now as president are grateful that you've learned when you were starting out in the It was early days
40:05
I think being honest about yourself, your abilities as a salesperson or whatever role you play. So I'm going to speak to sales, because when I started out in sales, I didn't know anything about the plastics industry. I mean, I didn't know what a heater was, let alone what a mold was, you know, I was, I was a homemaker with four kids. So I was, I'd never been in manufacturing. So I was green, I was a green screen there could be so when I kind of was placed in the role of sales by my dad and my brothers. I was very honest with the people that I met with. And I'll say that I started with customers that were already existing customers or based on Tronic. So that's where I kind of started to start my foray into sales. I was very honest with saying, I don't know. So if you know, asked me a question about an application or a product, I'd say, I don't know. But I will get back to you. I think that that afforded me a lot of respect from our customers, and even new customers, you know, just simply saying that I didn't know that I'd get back with them, and then making sure that I did get back to them. That was, that's a big one. And I've always said that to send me from the beginning. I mean, semi semi, at the beginning, really wanted to know everything today, like within this week, I want to know everything about what we sell, what we do, what does a mold maker do? What does it inject like she wanted everything uploaded up here instantaneously. And I told her, I said, Tim, it's not going to happen that way. I don't even know everything today, right? So your customers are your biggest teachers. So. So as you go through your experiences, your day to day meetings, be honest with them, be frank with them, and they will teach you, they'll guide you. So that's my, that's my biggest sort of transferable skill and patience. They told you, you need to be patient, you know, things will come, things will come as long as you have the drive and the passion.
42:11
You will succeed. I love that definitely customers are the greatest teachers. Wow, that is a really good jam. Because it is so true. We learn by listening we learned by really, you know, stepping back and, and yeah, observed, you
42:28
Now, a strong H Tronic is where it is today because of our customers telling us where we needed to improve. And what we could do better. Can you do this? Could you make it this way? Can you do this? And that's why we are where we are today because of that. So they are?
42:45
No, that's great. Send me what about you? What do you think are transferable skills coming out of the financial world? And even parenting? What do you think now in your role, because you've had less time in the business, but you're definitely jumping in with the video I know and encouraging videos, so
43:06
yeah, um, I guess listening would be the first one. I think when you go into sales, or when I went into sales, I thought, Yes, I needed to know everything, so that I could spew out all that information to show how much I knew. But actually, listening is where you learn the most, and you understand the most about what the customer's needs are. So I would say that's probably the biggest one for me. Did you say honesty? already? Yes. Honesty, um
43:55
I'm gonna, I'm gonna throw in one city, I think, you know, doing that tick tock video is a good example. Like getting out there and just showing up, I'm gonna, I'm gonna be saying, hey, showing up you gotta show up. Sure, we
44:09
I guess we will show up. And I think we try hard, we try , we put a lot of effort into what we do. Even with the tiki hut, if we're doing something, we're doing it 110% Because we want to show one that we care that we give a damn. And to support the industry because we're very proud of the industry that we are in working. We're contributing to something much bigger than us. And we're doing it locally, which we're very proud of as well. But yeah, I guess I guess you would be right showing up but also giving a lot of effort.
44:49
And I'm gonna say even thinking outside the box. I mean, the tiki hut was thinking outside the norm. You know, we came up with our own trade show a couple years ago called Go Ace connects that was completely outside of the box for a company like us. But it's something we did. And we did really well. So that's something we look to continue doing in the future. But I think you need to always think outside the box. And sometimes that's it's very difficult to do because we're so entrenched in our day to day, you know, whether that's the financial, the production, just the whole process of running a company, sometimes we're so entrenched in that we're not able to kind of take a seat back and kind of take a bird's eye view. So I think thinking outside the box is really, really important. And I'm just going to repeat what somebody said we are, we're so proud to be a Canadian manufacturer. And I think COVID has really put manufacturing on a lot of pedestal, but in the limelight, like there's such a focus on the manufacturing capabilities of Canadian companies. And I'm just, I'm just so proud and blessed feel blessed that we're a small part of that. So, yeah,
45:59
That is great. And I'm going to put up an Elizabeth quote about how it's easier to train a good salesperson. And I think this is something that is really key when it comes to sales in this industry. And what I can identify with is coming into the industry, you know, I call I'm a recovering journalist. So I worked in insurance in tech and now in manufacturing. And yes, you can, you know, you have to have that also. We'll talk about this out of curiosity, and you want to find people, as you know, that have the right social skills that have the ability to connect with people. I think that's what both of you do really well. So, you know, you don't necessarily have to know how to be out there and actually make the mold or, you know, pour the plastic, but you can identify with and understand the people that are doing those roles. So you do that well. And then Elizabeth did say yesterday did something similar with the Parker, d k pop from Elizabeth was much like the tiki hut. She did a popular booth locally here. And it was so phenomenally successful. I once worked with her on an event. And it was amazing how when they came by at one point we had run out, I don't know, some popcorn or CC. And they were like, Oh, that and I said, well bring it round to you on the golf course. Right. And so we went around the golf cart, dropped them off of them, and they wanted their popcorn, it was like it was an important part of the day. So I think it's really good to do those. And that's where balancing out, you know, you can have fun, still be relevant, still tell your story. And it depends what your brand is, too. That's the other thing not like, My brand is definitely bringing that element of funding. But it doesn't mean that everybody has the lip sync and be on tick tock and do other things. Like in fact, I would tell people, if that's not your thing, don't don't go there. You don't have to do that. But what I really liked what your story around the video is that you were you were championing that for a lot longer than I realized, Kim, that's that is,
48:04
It's amazing how much we doubt ourselves. Oh, yeah. Yeah, that's what it is. So we overanalyze ourselves.
48:16
You know, I was talking to someone about this, this term, you know, paralysis by analysis, so that's another issue, when sometimes it's like, and I'm all for using that, and I'm all for studying that. But sometimes, you have to decide, you're going forward with something and you're going to do it. And that's where you know that signing up is past because you have to decide and then get out there and do it. Because if sometimes, if you you can think of a lot of reasons like with me, sometimes even with fitness, like I can think of a lot of reasons why I shouldn't go out for a walk or shouldn't go out on my bike, or I'm getting a lot of reasons why it's two poles to this. So then you get out and do it. And it's oh my god, I feel so much better afterwards. I do want to touch upon one other topic, because this is really important talking about the role of women. And I know I want to read one quote, because this was from Brendan Sweeney. And it was in and I know you guys have done a podcast and this was from and I'm probably going to post the link in a future post because I do want to dress this idea up. He said this quote, in order to compete globally, Ontario's manufacturing sector needs to attract the best and brightest 50% of the best and the brightest are women. If it wasn't clear before it should be now women are critical to the future competitiveness of Ontario manufacturers. Boom, mic drop moment. I love that because we are missing out on so much if our education system and the industry doesn't step up. And I know I don't know if I don't think Megan Sandra, maybe touching base later but you know, she's doing great work in this area of trying to encourage more young people and especially young women. So this is one of you wants to maybe talk about that quote And the role of women in manufacturing?
50:05
Sim, or should I go? Oh, go?
50:08
Sure I can go. Have you had a newer version of this pod? The show as of
50:13
yet? No, no, not yet. She's, yeah, she's heads up building a tree?
50:18
That's right. Yeah. So she's doing some really fantastic work with educating young girls in high school and their families about STEM jobs. Specifically, I guess what do you want us to speak to about women in manufacturing, how to attract and how to retain? Just overall how to get women? And
50:37
yeah, just the why is it maybe just explaining why it's important. And also maybe like, one of the things too, we have to be careful that we don't, you know, I often hear this term, you know, Oh, girls, you know, you can do anything you want. Yes, but everything comes at a cost sometimes, right. So it's about maybe understanding the support that is needed as well, because, you know, women still are often you know, having children, taking time out, even maternity leaves, like there's a lot of things we have to understand better. So maybe you could talk a bit about that, because it's not, I really liked the term of looking at, you know, equality versus equity. Because I use the example of your two children, now being equal would be getting each of them an ice cream cone, except one child, maybe, you know, doesn't like ice cream, so they want to have baby chips. So equity is giving an ice cream cone and a bag of chips equal to giving them both ice cream. So, you know, looking at that equity issue for you know, how do we get more women? And what are the what are the pitfalls and some of the issues that we may need to address and we may need, you know, maybe some of our and there's a lot of I know, male supporters and male champions, I like to reference that maybe they need to understand also, from you about that.
51:55
So, um, I think, I think the most important thing would be showing everybody the jobs that are available first, because I think traditionally, when you think about manufacturing, and if, if mom and I weren't in manufacturing, first, if mom wasn't in manufacturing, I most definitely would not be, I wouldn't have gotten into the plastics industry, the plastics industry wouldn't have sought after me. And it would have been a huge mystery to me as to what manufacturing is, and what's available in terms of jobs. Because traditionally, I think we think about manufacturing, we think about dirty, heavy, it's not for women. We have come so far in terms of technology for what is available now to women and to all people, men and women in the manufacturing space. So I think bringing that to light for the younger generation for women, specifically to attract them is probably the most important thing, the most critical thing is showing what's available and the diversity that's available within manufacturing, too, I think, yes, in regards to women leaving and having Matt leave and having children. That's something that we just have to accept as a workforce. If the men could go off and have children, great, I think a lot of women would opt for their husbands to go off and have the babies instead of them because they're more driven in their careers. But the fact of the matter remains that women bear children, and so that we spoke about on one of Moore's podcasts as well as just addressing the elephant in the room. So as an employer, talking to your female employees about and there has to be a way of getting around the taboo or the HR issues around family planning with your employee. But if you involve the employee in future plans, they're going to want to come back to work after they leave. But if you're dismissing them, because they're going to take time off to raise their family, they're not going to want to come back into that space, in my opinion. I have the privilege of working for a family business. And so I was able to carve out some maternity time for myself and shape that in a way that worked for me. But I think all employers need to take that into consideration because there are wonderful, wonderful employees to be had in women who have fantastic transferable skills that they gained by becoming mothers that maybe they never even had before. Because I can say for myself, I mean, you were saying inventory control, and scheduling and holy smokes, I did not realize how much you have to be able to pivot and also if it comes it's a quiet thing that happens between a husband and a wife that it just kind of shifts to you like it's your responsibility but you do didn't even realize. So you acquire a lot of skills when you become a mother. And those are valuable. So I guess two biggest takeaways are visibility of jobs that are available in manufacturing and talking about the elephant in the room that women want to have children are going to have children and how do you get around that and, and keep them wanting to come back.
55:25
I love that. And I want to post something. Sarah Klages wrote something. And I think this is another issue too. She said my dad never invited me to join his double glazed business, he only asked my brothers, nobody ever thought I may be interested, not even me. And, you know, that is such a powerful statement, because it's true. Probably, you know, if you're not seeing other women, you don't even think that's an option or an opportunity. And I love that, you know, with your story sharing as well as like we had Ali Damiana. And you know, there is Jeanine. Lastly, Berlin is a really great example, as well as someone who had started out, you know, in the mobile world and is now the president of the National Association. And I just want to get this in because I know we're going to start to wind up because we could go on into so many topics, but we covered a lot of ground today. So I'm happy about that. Kim, you're on the board. You're the Toronto, head of the Toronto chapter of the Canadian Association of mold makers and also on a PMA. I'm gonna let you spell that out because I don't want to get that wrong. They are PMA, a PMA but it's an association of parts. Major auto parts auto. automotive parts. Yeah. So. So that's another way that you're showing up and, you know, showing leadership on boards like that as well, which, you know, as we know, on the cam board, as well as automate Canada, led by women, right. I mean, shelling Fellows is automating Canada. Jeanne is the president of both organizations. Yeah, so that's exciting. And I want to go back, Dave, and also there's a great quote, I want to draw up on here because he said, Don't doubt just do that's a good one, John, is that we do spend a lot of time doubting, questioning. And sometimes, you know, sometimes you just need to get it done. And, you know, my, my, for me, sent me this is what you have to look forward to is, you know, parenting a teenager too, because that is now like, my son is now 19. And this is exciting. Friday, we're doing a joint workshop on tick tock at a global event. Global. Yeah, so that's exciting to be able to work with him now. Because we've come through, you know, I've learned so much parenting as a teenager, that's where you learn, I think some of the best life skills is being able to listen back, and if, when, if he has his headphones in, don't talk to him if he has. Stand back. Thank you both so much. Now, we're just going to wrap up, I usually like to ask about a little bit about curiosity and how you nurture your curiosity, or what do you do that sort of helps to, you know, challenge your curious brain? So is there anything that either of you would like to be talked about, like, for me, it's I listen to, you know, I listen to some podcasts that are, I listed one called Hidden brain, which is fascinating, because I love how the brain works. And someone, a friend said to me recently, I'm someone who says, Yeah, you know, you're that person that will just like, want to go with your why that is and have to spend time digging into that. I must know why. So curious. City, do you want to talk about curiosity and how you nurture that or what you're curious about?
58:48
Sure, I'm actually reading. So I'm a big reader. I'm reading a book right now on breathing. Yeah, so I'm very interested in the human body having been pregnant now, two times. So a lot of weird things that happened to your body when you were pregnant, and then just rebounding from the pregnancy too. So just trying to understand how our bodies work. So I'm doing that by podcasting and I love to listen to podcasts big time. But also reading right now I'm just in the middle of a book.
59:23
We'll have to maybe post the name of that book I I'm I do yoga, and I know breathing can transform like Steven, anytime you're stressed. It's amazing how the breath is so powerful, and we know it, but we often you know, I have an app on my watch, so you don't have time to breathe. And it's funny because it pops up and it's like, oh, yeah, like, you don't mean breathe, maybe decrease. So thank you for that. That's yeah, I love those insights and Cam What about you?
59:54
Yeah, it's funny. I think, the whole COVID this pandemic has kind of shifted a lot of people was focused on them to their inner healing. So I've been really, especially the last few months, very curious about how to nurture our inner inner beings. And it's funny because, you know, last week, I think I got a question from LinkedIn actually said, Can you post something on, on mindfulness, I think and it was just very coincidental because it's something that I'm really really, I'm reading a book and also listening to podcasts. Eckhart Tolle is actually the author. But it's all about being present. So that's, that's something that I'm extremely, I'm delving into deeper, deeper right now. So that's my big area of curiosity.
1:00:47
I love that. And you should, I think you are connected, Damon, but Damon has some great books that he talks a lot about. He's had some transformations happen in recent years where he has helped his business by taking time to step back the process. And one of I had a great boss who headed up a very successful company. And I remember him teaching me the concept of less doing more thinking time. And it's still important to do your work at that. But sometimes you need to step back and take time, just to think and process. So thank you both for sharing that. Because that gives insights also to the success of your showing up your success on social and your success was stepping outside your comfort zone and doing things that may be challenged that part of who you are. But it has also been a tremendous help to your business. So that also helps me when I'm talking to my clients, because I can use these as examples. Because it does make a difference when you decide to show up. And the biggest part of showing up is that the first step is signing up, deciding that you want to change and you want to have success. So thank you both for that. Okay, so I'm going to meet you back in the green room. Thank you both for showing up today for talking about all of these topics and for sharing the great news about Sydney. Breaking. Do do doo doo doo doo breaking
1:02:12
through that. Thank you, Gail. This was awesome. Thank you so much.
1:02:20
Oh, wow. Wow, wow, that is just such an exciting interview. I just love the energy of Kevin semi. And please follow them. And let's go out please go over to Kim's cams profile and comment on her great video. Let's encourage her to keep doing it. Because I will tell you, I've seen videos of each of them. And they do it amazingly well. And I want to see more of that. Because it also helps not only with their business, but also helps to show how many women are out there doing these great things. And there is help out there. I was talking to another young woman recently and I said you know the power of, you know, asking for help. You know, some of the things that Kim mentioned to you know about saying I don't know, customers are your biggest teachers, and really looking at how you can ask for help when you need it. I used to tell staff when I was a manager of a marketing team, I said to me strength is when you come and ask for help, as opposed to assuming you know something and then coming two weeks later and missing the mark on the assignment. So thanks to Kim for confirming that type of idea that it's okay to say you don't know. So do you need help telling your story? If so, please reach out. Talk to me. I would love to hear you know what your challenges are. And you can find me on most social media platforms. Obviously here LinkedIn is where I have my weekly show, which is Wednesday at 1pm. Eastern Standard Time. And we have guests both in manufacturing as well as people that share ideas that may be outside manufacturing, but we can learn about in this industry of how we can find tips and ideas from outside this world as well. I'm also on Twitter. That is where you'll see I'm quite active and there's probably going to be some upcoming Twitter spaces I might be doing, especially given I think if you're still listening, I think we're going to do a Twitter space upcoming. I'm on Instagram and on tick tock and tick tock is where I'm exploring and really learning the power of short form video as well. And on Friday, there is and you'll see this on my I'll be doing a post on LinkedIn probably tomorrow about how you can connect with me there and join in the global tea break. My son Aiden Robertson will be joining me and we're going to be talking about tick tock type and some of the history and some of why tick tock has just blown up and what that might mean for you. And it doesn't necessarily mean that you have to go on tick tock but maybe some tips and ideas Why tic toc has been attracting so many people. Okay, so thanks, everyone. Thank you for all the comments today. So many great supporters out here today. Sarah Clay, thank you. I'm so glad that you could join in today. This was a new contact. And this is what I love again about, you know, showing up and being here on social media is that we meet and come across people on an international scale as well. And a lot of the work that I'm doing now is more on a global scale and not just in my own community, but anyone that is looking for help locally here in Windsor Essex, please reach out to Elizabeth and Perko marketing. And thank you everybody for today. And we'll see you next Wednesday at 1pm. Eastern Standard Time.
Stay-at-home Mom to powerhouse CEO: 30 years at helm!