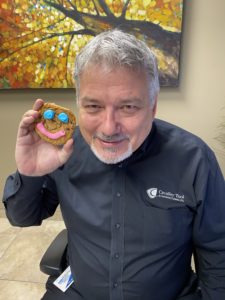 Manufacturing is often perceived as a low-skilled, low-paid industry.  That impression is wrong and Cavalier General Manager Tim Galbraith knows there is great potential and opportunity – and a lot more work needed to start spreading that news!

With Manufacturing Day coming up on October 7th, it's time to dispel some myths and also look at some ideas we can glean from those who Sign Up.  Suit Up  And #ShowUP. 
Cavalier Tool and Manufacturing General Manager Tim Galbraith has a good grasp of how showing up can make a difference in the world of toolmaking and plastic injection molding.  
"Manufacturing Day is important because it showcases a vital part of our economy.  We also need to get moldmaking front and centre to showcase all the offerings to young people deciding a career path."
He was  interviewed on my show, #ShowUP with GailNow LIVE and boy did he show up as he shared  his journey into the industry and even how he came to realize the power of  marketing!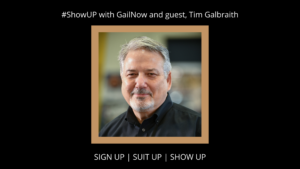 Galbraith's journey into the world of manufacturing started straight out of university when he got a job at a plant. Galbraith worked in the same plant for many years and through observation and curiosity learned a great deal from his shop floor experience. 
Then came an opportunity to move into a sales environment in the industrial supply and machine tool area and the mold making industry became a customer.   His manufacturing experience at that point was more in auto, automotive OEM manufacturing equipment, gear shapers and cam grinders and crank machines. 
Eventually he worked for a company that transferred him from city to city and he had his sights on higher rungs on the ladder and moving to a big city. However after working in Windsor and putting down roots – he started seeing a different career path take shape.   
Galbraith declined a job in Toronto and instead started his own business. One of his customers, a small malt shop, at the time,  indicated  they needed help with sales, so Tim started helping them on a part-time basis. He quickly realized  there was a lot of room for professional salespeople in that industry. 
The role become full-time; selling molds (which he didn't know anything about), except that they were plastic parts. At this stage, he didn't know a core from a cavity, but he got started feet first and hasn't looked back, some 30 odd years later!
Galbraith is an example of how to use curiosity AND transferable skills in manufacturing to develop quite an illustrious career that now has him as General Manager of the internationally renowned Cavalier Tool and Manufacturing.
He is also someone who understands the connection between marketing and sales, recruiting and retention.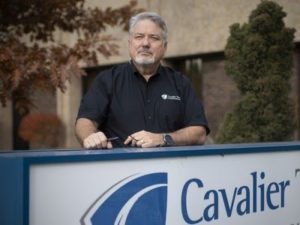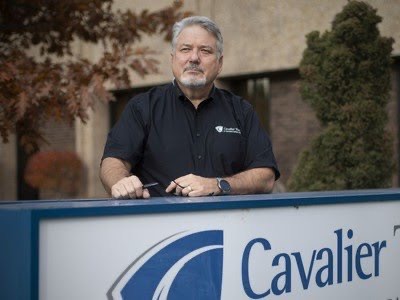 Tim Galbraith, Cavalier GM
Galbraith shared how he got started in marketing – at a time when even fewer people  than today in manufacturing could see the opportunities. 
"There were no business cards, there was no literature, there were no brochures, there was no nothing. Again, there's no internet, so you didn't have a website. So my idea is that we have to market ourselves somehow. 
So, I went and took Polaroids (for those of you that don't know, that's a camera that gave you an instant picture) and I put them in a photo album. I went around the shop, took Polaroids of the machines and of the tools and of the parts we molded at the trials and made up a picture book. And that was my first stab at marketing." 
He goes on to say that, "Now we're talking bear skin rugs and stone knives and axes and stuff type of thing. We're Flintstones, and fast forward to today. .. 
I now see how marketing is key to sales. I've always understood that and when we got into the digital age, I wasn't good at it. Still not good at it without help from Gail Robertson (and GailNow)…  but I recognize that telling our story is more than photographing photo albums or more than a brochure or more than a webpage. You have to encompass all aspects of it."
That is what sets Galbraith, and frankly Cavalier Tool apart from many in manufacturing.  
He always looks at what is up and coming, and he is not closed-minded to new ideas and marketing.  He knows  digital marketing is essential. And anybody who's not embracing it now is probably not only late to the party, they just may be too late.  Period. 
His curiosity has led him down many paths of discovery, most especially pertaining to manufacturing sales, toolmaking sales and marketing.
 In sharing his experience, it is evident that  Galbraith was willing : 
To Sign Up  (deciding to jump into the industry / create marketing strategies)

To suit up (learn about the industry / marketing) 

To Show UP  (becoming the expert we now know him to be in sales and knowing better than most how sales and marketing work together).
Many in manufacturing could take a page out of Galbraith's book – and not just on Manufacturing Day but all year. 
In a Cavalier blog, there are some stats that show how powerful manufacturing can be – and the wealth of opportunities. 
For example… 
American Precision Museum (APM) recently shared that 6 out of 10 positions in manufacturing remain unfilled, in part due to false industry perceptions. 
Therefore,all in the industry and those who support it must collaborate to battle against the common misconceptions, including:
Manufacturing is dead

Manufacturing facilities are unsafe and dirty

Manufacturing jobs are boring, repetitive and unfulfilling

Manufacturing jobs do not pay well

Manufacturing offers no career path to higher income
There are some mind-blowing statistics around the industry, according to Dozuki (a company that provides tools to help people in manufacturing communicate):
Every manufacturing job produces 2.5 new jobs in goods and services 

From another viewpoint, every $1 invested in manufacturing, another $1.37 in additional value is generated in other sectors, resulting in investment in the manufacturing sector, which is one the most effective ways to grow the economy as a whole.

Manufacturing is the fifth largest sector of employment in the United States

The pay for Manufacturing Jobs is higher than average

Manufacturers earn 12.8% higher than the U.S. average in annual pay

Manufacturers pay higher hiring salaries and require continuous skills development and growth, meaning that skilled employees are more valuable and manufacturing companies are open to paying for top talent.

Manufacturing Drives Economic Growth

Production is estimated to have grown at a rate of

2.8% from 2018 to 2021

This growth is unprecedented and is predicted to outpace overall economic growth (2.3%) over the same period

3.4 million manufacturing jobs is expected to be created by 2025

Due to sector growth and a retiring workforce, the rate of hiring will be steadily increasing over the next 7 years

The Skills Gap

It is believed that by 2025, 2 million manufacturing jobs will go unfilled

This introduces an incredible challenge and opening for companies to attract and develop new employees. Outdated presumptions about the nature of a manufacturing career has led to public misconceptions, but events like

MFG Day

and Industry 4.0 technologies are changing that, which is very fortunate.

94% of manufacturing decision-makers cited internal employee training and development as the most effective way to close the skills gap

With large portions of the current workforce retiring, companies will need to capture knowledge quickly and

document training material

with efficiency
When it comes to people choosing it as a career, this sector has traditionally had a bad reputation. 
Previous generations knew it as a sector with subpar working conditions, restricted career opportunities, and a high risk of losing your job due to automation, cuts, or both. This may have been true 15 or 20 years ago, but manufacturing today is nothing like it used to be!
According to an article published on the Forbes website in November 2020, manufacturing is a career, not just a job.
Manufacturing has a lot to offer: exhilarating and innovative work, plenty of work opportunities, good pay, and room for growth. If you're looking for a career with many possibilities, a career in manufacturing might be right for you!
Check out my full interview with Galbraith at the YouTube link below.
The many faces of Tim Galbraith: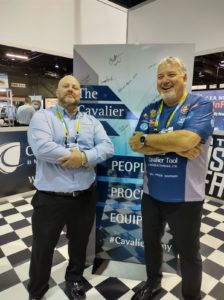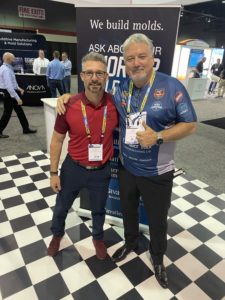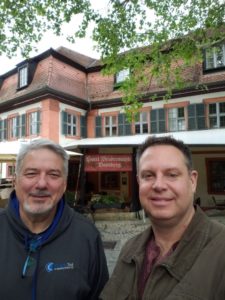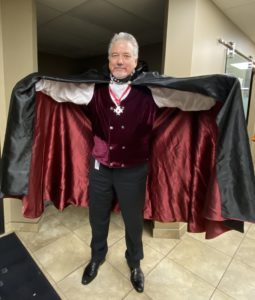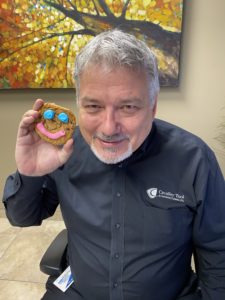 *********************************************
Link to YouTube Show:  https://youtu.be/XSH-bXNZZbo
TRANSCRIPT – From Otter.Ai 
(Direct transcription- non-edited version) 
SUMMARY KEYWORDS
people, tim, manufacturing, industry, learning, talk, cavalier, spend, mike, kim, curiosity, tool, story, comments, little bit, understand, person, sales, bit, windsor
GAIL 01:41
Well, hello, everyone and welcome. And as you know, we're going to be hearing some stories today. And most manufacturers don't know how to share their story. So that's where I come in. I'm the chief curiosity officer at GailNow. And using my three step process of sign up, suit up and show up. I help those in manufacturing tell their story. And often it's with that different spin and really working with various clients on how to pull the stories out of them, and then be able to share them more widely. So today we have someone from manufacturing that does show up. He certainly has a great understanding of manufacturing. And we are going to be hearing a little bit about how he showed up and also about the journey over the years and some insights into the industry. So before we get started, I do want to actually look at what we have. The comments today are blowing up so I'm going to start with that just before we bring our special guests on. Oh we have Ray Ziganto who is the manufacturing unicorn is in the house. John Buglino. Also from USA manufacturing, one of my networking friends. Thank you, John. And thank you, Ray. We've got a look at who else is here. We have Brian good afternoon Brian. Brian is also from Cavalier tool. We've got a lot of chatter back and forth . just somebody said Did Tim pull  the short straw to be honest with Gail you next I think he's talking about Brian. I don't know, I think there was a little bit of coaxing with Tim but again, he has so many great stories. And then oh, races. Careful, John. Good. We'll keep you after class. Remember that? I love Gail. She knows that all Thank you. Oh, we have Elizabeth who is a local  marketing firm, Pirkko marketing, Elizabeth is in the house and also, she's stepping in a little bit to the manufacturing world. So she might be on in a future show as well. We have an Ola from Kim Tiara also for manufacturing. Welcome. We have a lot of back and forth. And look, Tim, if you're I know our guest is in the greenroom looking at this. So Cynthia is here as well. So thank you, oh, oh, and who else is here, but Mark Perotti, also from Cavalier, one of the salespeople. So thank you one and all for coming out. Before I bring our guests on, I'm going to play a little clip. And this goes back to when I was working on an event with the Canadian Association of mold makers. And we were doing some work with encouraging those in the mold making industry to also show up in this new digital world. And Tim is someone who provided a live video clip that was part of our training. So I want this to be a good lead in. So here's him before we bring them home.
GAIL 04:49
You've got to make sure that you stay ahead of the curve and technology. Your equipment has to be fast and accurate. And you got to be telling people about it. It's not just good enough to have it So the guys that go out and tell him the cutting edge in art won't last. The guys that are cutting edge. Don't tell anybody won't last. You got to do both.
GAIL 05:10
You have to show up. Okay, let's without further ado, here is Tim who is showing up today on GailNow lives.
TIM 05:21
Thank you, Gail, it's nice to see the trees still growing out of my head like it was in the video clip. 
GAIL 05:26
consistency consistency, so consistency. So I wanted you to see all the comments coming in this is wow, that was that's a lot of comments before the show even got started. So that says a lot about the welcoming committee that is laying out the red carpet for you today. We have a lot of back and forth chatter for those of you on LinkedIn, please encourage people to, you know, connect with you. What I often recommend in these types of shows even if you're not always, you know, following along intently, although today, I think you should. But it's a good opportunity to have some talks and meet people in the chat. It's almost like having some hallway conversation. So again, we've got I'm trying to see we have lots of people that are showing up saying, you know, giving greetings to one another. Well, looking out for a new person has come in, Jake. Thanks, Jake and Jake, for sharing this event today. Way to go Jake, good to see you. And we have more people saying hi to you. Hi, Tim. Hi. Yep, we've got to try to see if I'm missing any comments. But thank you, everyone, please keep the comments coming in. If you have any questions, you can drop them in there, I'll try to come back to them. And as you know, my regular show producer is off on vacation. So I'm going to be doing a bit of double duty for a bit. But you know, this is, oh, wait a minute, we've got another quote. Let's see, I was so excited for Storytime with Tim the Toolman that I might have fallen down the stairs, don't worry about only a couple of running to my desk. Jake, we need to see more of that sense of humor. I love it. See? I think you need to do a post about that. And you put that in. Okay, so, Tim, you. In that clip, let's start with a clip as a segue from the clip talking about the importance of telling your story. So do you want to maybe elaborate a bit more on that where you were talking about, you know, having all of these great things? And why do you think it's, this is a leading question, why do you think it's important to share that?
TIM 07:39
Well, first of all, thanks for having me this afternoon. It's quite an honor. And thanks to all the people who showed up. Pretty cool to see a lot of familiar names out there, and some not so familiar, but people I recognize from social media, I'm honored that you have to spend time with you today. To take off a little bit on what I said. The manufacturing industry in general and more particularly our industry is one that typically plays their cards very close to the chest and they're worried about giving up the secret sauce and, and the nail that stands proud gets hammered all the colloquial settings, the sayings that are out there. And that was fine before the digital age because you got in your car and you chased silos and you ran around looking for business. And you didn't tell anybody. But in this day and age, everybody knows where every customer is. Everybody knows who you are. And if you're going to be successful, you better not only talk the talk, but walk the walk. And either one of the two, without both of them won't be successful.
GAIL 08:48
That is well said. And I often use this and most shows I referenced this that, you know if the tree falls in the forest, and no one is around to document it, did it really happen. And apparently this is something we'll probably talk about quantum theory, which revolves around here. It doesn't make a sound. So there's a whole quantum theory. So we'll have to, I'm sure I'll be doing a further blog on that as well. So and now, in terms of your background, so you started in your background is more in sales, but let's talk about how you got into this, this world and I'm just going to give a bit of a scene set or two that you work with. You're the sales manager at Kevlar Tula manufacturing in Windsor, Ontario, Canada. You are also or have been a longtime board member with the Canadian Association of mold makers. And how did you get into let's talk about how you got into the the world of mold making
TIM 09:52
Wow, ancient history. I was in manufacturing After university I got a job in a plant, I'd worked in the same plant many years using my brawn and not my brains and in the plant environment. And so I grew up manufacturing when I had an opportunity to move into a sales environment, it was in the industrial supply and machine tool area. And to get fast forward, the mold making industry became one of my customers. So that's my original exposure to them. My background at that time was more direct auto, automotive OEM manufacturing equipment, gear shapers and Cam grinders and crank machines, etc, etc. But yeah, the moldmaking was peripheral on my radar. I don't know, I guess I'll go a little bit granular. I had Trent transferred through this company from city to city, expecting to move up the ladder and head to the big city of Toronto at one point. And that was my predetermined goal. And when I spent enough time in Windsor, and was told it's time to come home to head office, I said no. I said, I really liked Windsor, I've grown, I've started a family here, I've got friends, and I'm not willing to make that sacrifice for my job at that time. And they were incensed. And I said we just parted ways. So I started doing my own thing and opened up my own business. But I had a customer who said you know what, I really need some help in the sales area. And I said, I'll help you part time. So I morphed over and was spending a day or two a week helping him with his sales efforts. And it was a small malt shop at the time. I quickly realized that this industry and again, think back historically, it this is before the internet, the sales guys were the you know, the cousin who couldn't get a job anywhere, and they gave him a credit card and a car and said, Go entertain some people take him to dinner and other types of entertainment and, and and do business with him. And again, that's the way it was done. And I realized that there was a lot of room for professional salesmen in that industry. So I decided to come over full time. And I didn't know what a mold was, at the time, to be quite honest with you. I mean, I knew they exist. I knew they were plastic parts, but I would know a core from a cavity. And that was my introduction. 30 some odd years ago.
GAIL 12:20
Wow. Okay, I feel so much better. Because as I have gotten into this industry, and I remember early on, I don't think I really understood completely, the difference between a mold maker and a molder and I got that little confused until one day I had that click went in, and then when and being on the shop floor, and we're gonna get to that story because for me spending time, even walking around doing photos, talking to the shop floor staff has helped me to understand you know, I can see a core and a cavity, I can see all of the, like the size of tools sometimes to make, you know, not an even a large, large plastic part. I've been just in awe of that, that how much we don't know about behind the scenes when it comes to the products we use every day. So then we have Ray said well and he also said I remember the cousin that couldn't get a job. Yeah, you too. You too, I think, would have. I could see you too over beer telling so many tales. I think that would be a fun, fly on the wall story. Right, and, and YouTube. So let's talk about how you were working in manufacturing. But let's talk about those weekends. I know you've told me a bit about that how you got into learning about the moldmaking world to a greater degree
TIM 13:49
As anybody who's in the sales game knows that having a lot of words will get you only so far, you actually have to have a modicum of knowledge about the product that you're talking about. And I had none. I mean, I'm talking to none. I knew there was steel and that was about it. So as a learning tool, I decided I would show up every weekend and work in the shop on Saturdays and sometimes Sundays and I put a shop coat on and go out there and that's how I learned and one of my goals was to experience every single position. Now of course the CNC came along. They went, oh boy, you're not going anywhere near the CNC department. There was CNC back then not nearly as sophisticated as it is today, but it existed. So I went around and I worked in the spotting and I worked in the toolmaking. And I did a lot of shoveling chips and just basically learned I have a funny story. One of the toolmakers thought this was pretty amusing and said to me, you need to be exposed to polishing and the hand room and I went Sure Okay, well I'm not sure what that is. But let's go with it. And so he takes me back into the hand room and hands me a dipper file. And for those of you who don't know what a dipper file is, it's basically a vibrating file that goes like really, really fast 1000s of times a second. And you put a little piece of emery cloth on the end, and you can do polishing with it right. So. So the first thing I do is I get this thing from my uncle, sure, I haven't got to do this, and I start polishing the rest. Well, if I didn't destroy the tool, like 30 seconds dinged and banged, and the owner comes running over and grabs me goes, Okay, this is a noble effort that you're doing, but go back to shuffling chips. So they had a little repair work to fix that tool up. But yeah, but that was really my learning curve until, again, a little bit of an anecdotal funny story. After a few months, a group of the younger kids came up to me and said, like, what are you doing? And I said, Well, I'm trying to learn this. You understand, we're not that busy, and you're taking work from us, and we're not getting as many hours as we wanted. And you need to get your fat ass out of here and not work, take our jobs from us. And I was crushed. I went, I'm only here to help guys. And they said, Yeah, but you really do need to move on to him. So. So I shifted my focus. And I went to trial shops, because at that time, there were only a couple in Windsor. And I used to, obviously, I did all the trials, because we didn't have program management. So I was a sales guy, program manager, etc, etc. And I would spend a lot of time at trial. So I quickly learned that going to a try out shop that sees everybody's tools in town, all the mistakes, all the good things, all the bad things, all the different residents, they are experts at molding. So I just sat and hung around the trial shop as much as I possibly could, and asked a lot of questions at the press operators and got a wealth of knowledge that way. So it was a bit of a school of hard knocks, I guess I could say that I didn't have to actually do any heavy lifting, but learning just from people teaching me and people willing to share their knowledge with me.
GAIL 16:52
Well, as you know, I also talk about curiosity. And one of the things that you're just talking about is being curious. And obviously you were looking around corners and learning, which is also such a key part of understanding this industry. And I know we've had discussions about this. And I think you may have called me a nerd once or twice on a Saturday morning over coffee. I'm often reading the trade publications and sometimes I have no I'm reading an article going. I have no idea what this is. But I figured it's like muscle memory. I'm just going to read this because one time or something may click and then I find that I really that's helped me to really understand, you know, content, who's reading it? And what are the articles that I can identify with? And who are the people writing things that are technical, but also have, you know, an interesting way to describe things. And so that's, that's been my learning. So thank you for sharing that story. That's really amazing to hear that you were actually, yeah, shoveling chips, chips. So we have a couple of comments. I just want to bring up because we have, oh, this was referenced to Ray's comment we had might say cousin Eddie, I believe, of course Mike is in the house, Mike is I actually think Mike is increasingly along with John bouboulina and a few other people are becoming it's like my number one fan of my show. So when I get T-shirts made I'll have to look at my list. Oh and another fellow marketer Katie McDermott, who is a bundle of energy as well. She's helping bring some fun into manufacturing as well. We've met through social media so again, you'll probably hear me talking about this today. A lot of people in the comments today. All these are a lot of these are people that we all connected because of networking, being online, being in various Twitter chats, being in attending webinars and attending shows. So thank you for that. Katie, and we have anger here. Anger, hope you're having an amazing day and anger actually is in I can think I could say that she's in South Africa right now. So we have an international audience for sure. Thank you for stopping by Ingor. We have more people saying Yep, just saying hello. We have John Rubino who is dedicated, he shows up at a lot of lots of shows. We have Mike saying Hi Katie. Inger Mike again. Oh, look at Mike says you're certainly well polished today too. There we go. Thank you, Mike. Kim says the sharing of knowledge is valuable, especially now when we are lacking in skilled workers. Yes. So that we will get to talking about workers and people that have the knowledge and we have oh, I'm gonna do a plug here for John says USA manufacturing our Yes, every Thursday 2pm Eastern Standard Time. Make sure you stop by, again, so many people in manufacturing and one of the things we're finding too there's a lot of what's called lurkers, John just posted with that there's a lot of people that may not comment even that are here today. I hope any lurkers out there, especially from Cavalier, please drop a hello in so that we can bring you up on the screen. It's really Important to, to kind of make your presence known in these types of shows, because I will bring the comment up and say hello. And for those of you who aren't aware, I do work as a consultant with Cavalier tools and work with Tim, fairly closely. So now I understand your background, why you have probably a lot of compassion, working with me. So thank you. It's been definitely a learning curve coming into an industry where it can be very complex, when it comes to, you know, the toolmaking side of things, because I think I could understand the molding, you know, once gets to pouring the plastic in, I can almost visualize that just the building of the tools was important, and also very key to how our end products are made, right? Because if the tool isn't made properly, it's a whole, whole connect the dots process.
TIM 20:54
So we make we make things that make things, huh,
GAIL 20:57
yes. And I know we've had Kim Thiara, who was on the show recently. And so let's talk now about your perspective. We've heard about your perspective now on social media. Did you always think that way? They always think social yay, can't wait to go on it. Let's hear what you are, your thoughts, and maybe your transitions. I think a lot of people listening may want to know, you know, does it come easy to you? So let's talk about showing up on social media.
TIM 21:32
I'll segue into that Gail to give you a bit of background. And let's go back to where my original job was when I took an old job. There were no business cards, there was no literature, there were no brochures, there was no nothing. Again, there's no internet, so you didn't have a website. So my idea is that we got to market ourselves somehow. So my idea I went and took Polaroids from for those of you that's a camera that gave you an instant picture that you're not going to remember and I put them in a photo album and I went around the shop took Polaroids of the machines and of the tools and of the parts we molded at the trials and made up a book a picture book. And that was my first stab at marketing. Now that we're talking bare skin rugs and stone knives and axes and stuff type of thing. We're Flintstones, and fast forward to today. So my understanding of that marketing is key to sales. I've always understood that and when we got into the digital age, I wasn't good at it. Still not good at it without your help, by the way. But I recognize that telling our story is more than photographing photo albums or more than a brochure or more than a webpage. You have to encompass all aspects of it. And you talked about curiosity, and and I'm always looking at what is up and coming despite the snow on the roof here. I'm not closed minded to new ideas and marketing. And matter of fact, you've even got me on tick tock, I'm not making them. But I'm at least looking at this point. So yeah, digital marketing is essential. And anybody who's not embracing it now is probably a little bit not only late to the party, they just may be too late, because there's a lot of people that are so yeah, it's a big deal. And my curiosity has led me down the path. And I guess I can tell the story that I told you offline, you weren't the first person that we hired because I knew that this was a concept many years ago, and we hired someone who hired someone to help us out with it. But they probably wrote great Facebook stuff. But it wasn't really what we needed. It was a very terribly failed experiment. And we took a couple of years off and tried to develop it and we got our LinkedIn stuff going terribly. I'll admit it in hindsight, but then we hooked up you and I met and got together and had a discussion, I realized that you were going to be able to give perspective and provide me with guidance, to allow me to show what I know to be cool in this industry and in the company that I work for, and and how to put it forward. It's been a successful relationship.
GAIL 24:09
Well, thank you for that. And I will say that I know people that I'm connecting with in the manufacturing marketing world, one of the things that is is very important, it is more than doing, you know, three posts a week and just doing it's not a one way conversation, you do need the engagement you do need to be able to Yes, understand the industry. And also part of you know, my three step process: sign up, suit up, show up, you can sign up and say you want to do it the suiting up is where the research comes in. Understanding the industry also understanding the goals and objectives. So yeah, so that's why I think we worked well together and the people that I am working with they they're willing to first sign up and if you don't have that willingness to sign up, you can't really ever get to your end goals. because first of all, you have to decide what you want to do. And I often say the clients that I work best with aren't the ones that I have to, especially in 2022. If I have to explain why social media is important, then it's going to be difficult, you have to sort of already be bought in that this is a way to go. Now, you still also let's talk about, because when I say that, sometimes what happens is people hear, Oh, we have to give up emails, or to give a call, we have to give up trade shows we can't. So let's talk about what you do well, is the connection between seeing people, same people real time doing trade shows, and social media and how that ties together.
TIM 25:44
Social media and digital marketing is not the be all and end all. It's one component in a successful successfully built sales plan. And it includes in person business, it includes trade shows, it includes, I'm sorry, this is the old school part of me, but face to face is still a way of building trust. And there's, there's only so much you can do with Twitter posts and emails, and there needs to be relationship building, at least in our industry. Anyway, that relationship building in order to build trust, but part of that building that trust is your brand. And branding yourself is key to success. And I've said it before to a few of you that are here today, that my goal is for my sales guys to walk into a building a customer they've never been at before I walk in or phone or whoever make contact with them, and they go hear from Cavalier, I've heard about you, and then they look at your business card and they say, Oh, you're John Doe, I won't single any of you guys out. Your John Doe, I've heard about you too. So we've got two brands out there, both the reps brand and the company's brand, which are well known already ahead of time. It allows you to build the trust and build the relationship you get over the old days of having to schmooze the receptionist at the front desk trying to get the name of the decision maker.
GAIL 27:19
There true that is a very good summary of you know, the connecting the dots. And I will say this because Kim Thiara's here – while you can't always meet in person, the next best thing sometimes is using video. And I'm gonna do Kim and her daughter rocking it on video. And, and we're doing that I mean, Brian's gonna shoot you're on this show today. So this is where it's really important for people to get to know, get to know you. And I always say if you get invited on a podcast or on a show, the answer should always be yes. And when can I put it in my calendar? So we have some other comments. Here we have. We have. Katie has deep thoughts from Tim, that's going back a bit. We've had a few deep thoughts. We have him saying well, makers, making things that make things short and sweet. Yes. And if you haven't, I'll try to remember to drop it in the comments. There is a great video from Canadian Association of mold makers that talks and shows exactly what the industry does. So we'll have to get that posted. And Katie says yes, machining is cool. And manufacturing is cool. Oh, thank you. Gail is putting us to the manufacturing. Thanks. We do need to spice things up a bit when it comes to manufacturing, that's for sure. Okay, so we have Mike saying All kidding aside, as per Tim's skills mentioned, Tim Campbell, they always have an open door for government officials. Many people do not know what mill making is, however, they're very influential by taking the time to meet with them. These officials understand the industry veteran Cavalier benefits as does the entire industry. Yes, the more that we can share, and one of the things that Cavalier being on Twitter, because a lot of people that are on Twitter are influencers and political leaders. We have a few photos that have been posted over time when sometimes politicians have come to the community, so that's good. Let's see. We have to say I agree with Kim. She's doing a great job. Thank you, Elizabeth. And then we have Kim does say nothing beats face to face relations. I think everyone would agree that face to face is definitely important. One of the lessons I learned over time, though, is that we also have to turn to my uses. You have to work with the hand you're dealt. And over the last couple of years, the hand you're dealt is when we couldn't do face to face what were what were the other options. So Katie, one degree in the recipe for epic success. Yay for personal branding, lots of work out there and personal branding. I strongly recommend for anybody that's on this call you Make sure that you are doing your own personal branding as well as the company one. We have like when you connect in person social media is a great tool to build that relationship. I always connect with people on LinkedIn after an in person networking event. Elizabeth and I met because she saw me at an event and then she followed up on LinkedIn and that is how we've done . We are both friends professionally and personally. And it was because of that connection between an in person and all look who's here we have a special listener watcher today Tim Look who is here
GAIL 30:40
Miguel helped us see the light and we benchmark what they're doing to launch and refine our own brand and marketing strategy. Thank you Stacey. i Because I actually did some work with Stacey and an amazing company. You're not following Stacy, please go over there doing some amazing work. And I think I'm going to be doing a little assisting with some more with a new person on board. Stacey is an amazing person with a wealth of information and knows the industry very well. I strongly encourage everyone to connect with him. Love that brand yourself. So you're recognized for purchasing sales visits. Yes. Let's say this one more time for all of our salespeople here, branding yourself so you're recognized prior to a sale visit? Yes. John Bablino has talked about this. I've talked about this. There are so many lurkers, you do not know how many people and I've been on. I've done some work on tick tock more for fun. I didn't I don't have any big plans right now. I'm just kind of, you know, playing about there but I actually was on a call recently and someone said you know I do follow you with tick tock and they said they said you know, I love you know your energy, your sense of humor. So I was shocked because I thought whatever you're watching on tick tock like no, that's my I'm just over there. goofing around, right? I didn't. It's not part of my Oh, but it is part of my grand so we have raised it social media is where you prospect today, the only place you can have 1000s of workers for a very small target investment. Let's just leave that there for a minute. Think about that. 1000s of lurkers for a very small targeted investment. And it's I think somewhere between only one to 5% of people on LinkedIn are actually posting. So if you post even if you decide to post, once a month, you are still going to be further ahead of many of your competitors. So especially in manufacturing. In other markets, it's a little more challenging, but there is work happening on LinkedIn right now in order to get manufacturing as a more recognized industry on LinkedIn. So shout out to Jake Hall if he's watching or watching later. He is an amazing advocate for getting manufacturing out in the spotlight. You have John Well said. Oh, so many people to connect with today? Yes, John, make sure yes, with Stacy, you guys need to connect to so. Okay, back to our regularly scheduled programming. Okay, let's see what else we've talked about socially. Let's talk a little bit about let's pull back the curtain on family life and diving and car a little bit about what this. Tim does when he's not talking about well making and doing all the nerdy stuff of attending meetings and all that you do have? One thing I'm most impressed about Tim is that you know your family and you know them well. I don't know if you've done any recent diving, but let's talk about those things: family diving and your work on your car, your new car. Sure.
TIM 33:51
My mantra when I was raising my children, was there circles in circles in your life, and you need to look at your circles and, and I told them that the sort of inner circle was my wife and I and the next circle included them and the next circle included cousins and friends, and on and on and on. And I did that so that they would prioritize their importance. And you know what being in the cool group at school isn't as important as monitoring your circles. To that end. My family and my grandchildren specifically, are the joy of my life and they're what I live for. When I don't work 70 hours a week. I like spending some time with them as well. So yeah, they're a big part of my life. I have two grown adult children and two grandchildren, granddaughters and spend as much time as I can with them. Yes, you're right. i i At the tender age of 55. I decided at the coaxing of one of my children to realize something that I've always wanted to do and that was swim underwater to go scuba diving and, and of all things. There was a Coupon that was stuck on the fridge at home and it expired the next day, my daughter said. Why aren't you doing this? You always want to scuba dive, we've known that and you've got a group on why don't you just go and take the darn course that I when I get around to it, she goes, Oh, you always talk about that. So I was really upset about that. So I called the scuba shop and said, I'm coming tomorrow and I'm going to learn to scuba dive and, and I'll tell you that my first underwater experience was just phenomenal. I felt a little bit like Superman because I could fly a little bit Aquaman because I could breathe underwater. And I went in headfirst. And I spent a lot of years and a couple years ago, achieving professional certification as a PADI Pro, professional scuba diver at the low level, but that was a big accomplishment for me. As a matter of fact, I got my first ever tattoo with my scuba number on it, and to anyone who's in the petty family knows that until you become a precious professional, your number changes once you become a professional, your number never changes. So when I got my permanent number I had indelibly stamped on my body. Probably too much information for many of you. COVID Indeed, has put a damper on that for almost two years since I've been in the water. Actually, that's not true. My son and I lost his keys in the harbor at Colchester there last year. So I suited up and went down in the mud in the murk and found his keys for him down there. But that's about all the scuba diving I've done in the last couple of years. I'm hoping to get out this summer. Now that things have loosened up a little bit. But yeah, that was a big passion for me. Cars are a more recent passion. When I was a kid in the 70s I saw the C three Corvette and absolutely fell in love with that and it was going to be a retirement thing. When I retired, I was gonna get one and and I have no despite the fact that I'm in the mode industry. I've never changed. My older hadn't at that point in the car was all done for me and COVID hit and my wife said just buy the damn car. And we're sitting home night after night and just go buy the car. It's not gonna kill you. And we did. And I bought some tools on Facebook marketplace. And I spent all last winter tearing it down and rebuilding it and liked it so much. I bought another one a couple weeks ago. So I have two of them now. So yeah, I become a Corvette fan and love taking them apart and putting it back together and learning how to do that. So yeah. Yeah, that's fun.
GAIL 37:25
Well, you mentioned someone who I've met, and I just think is an amazing woman, Sharon, your wife, friend, that she supports that. I think that let's give a shout out to Sharon as also a great mom. Great. And I know, well. She may even be lurking. She may be lurking I
TIM 37:47
guess she pointed out to me last night she goes I see you're gonna be on the podcast. And I said yes, I am. So maybe she's out there. But yeah, she's been a steadfast supporter of me and my career and and I can tell you that there's been a lot of times I haven't been there for dance recitals and, and for birthdays. And it's just the way the industry is. And those of you who are in the industry know the sacrifices that you have to make to be successful. And she's been there for me all along. And she's retired now and we're enjoying some time together when I do get home.
GAIL 38:22
This is a good comment to submit that it's all about our family, extremely important to me to work life balance and keep our priorities straight. And I think that's something that too is we and probably you're realizing especially with grandchildren, I know that's where sometimes parents sometimes go. Okay, I gotta do extra duty now as a grandparent because it's like so much fun. And I'm not there yet. My son just turned 19. And I will say this one thing when you're mentioned about scuba diving, I actually did do the potty I got certified not professional, I just did it on a trip to Thailand many years ago. And it was fascinating. But I also realized along with being chief curiosity officer, I'm also an overthinker at times. So the one guy that was helping out because I was doing okay in the first few days and then we had to dive into the what they call and dive into the dark or the dark like where you were, you couldn't see so we had to go down in the dark. And I had I said talk that we're gonna go back up and he told me he goes like, stop thinking I was because as soon as I got down there, I was thinking I'm breathing underwater, and I always had like this panic attack I was and I realized, for me, that was a real challenge. I'm glad I get it. I'm so glad I did it. But I don't really have a lot of desire to do it again. I'll stick to snorkeling and stay on top of the water. Thank you very much. But it was a fascinating process and really taught me a lesson about Yeah, I just you know, unless you have to, you have to kind of suspend your belief that you know that you're actually underwater breathing because it's a little scary. So
TIM 40:00
The best divers have survived panic attacks. I too had one in my learning and rocketed to the surface and blood coming out my nose and and when they taught me I was I was done I was walking with them that my instructor at the time talked me off the fence and got me to go back in the water and but once you've had a panic attack in the water, once you've got over it, you see you'd recognize it coming and again, this is we talked about transferable skills, you see it coming and you know how to manage it. And it's like everything else if you can see adversity coming and you know how to manage you'll be successful and that's been the key I've been in some pretty precarious situations both underwater and above and that kind of thinking can get you out of trouble.
GAIL 40:42
You know that that is really you're right. That is a great skill. And as well as while I'm not necessarily going scuba diving high on my list, it was a good lesson also, because I did come up a little too quickly. Luckily I was okay, I wasn't that far down. And they gave me a hack for that. And a good lesson. The other thing I learned through that was they explained to me that like when you are stressed, you're using up more of your oxygen. So I really learned about breathing and also I've been on a boat and I've often said this to people drown usually not from you know, true going underwater usually what happens is they panic and they flail about and they don't relax and if what you really need to do is relax into it lean back, but people panic so usually most people die from panicking as opposed to true. Just going under so yes, that's a great discussion about transferable skills. We're going to come back to that. Let's go through a few of the comments we have a little bit and from that topic down to Mike saying he's lost a lot of gold coins like can you help me out? Of course I will say this I'm learning a lot I didn't know this at first about Mike's sense of humor but I'm really getting to know him I kind of got caught out at the golf tournament this year Mike about that going taking a photo of the motorcycle so yeah, well you may know what you mean what like mean about that Mike so almost caught me I didn't know he was he's a funny guy. Raise again it says Corvettes are an itch you need to scratch so obviously Yep. He gets it as an official gearhead as so many in the industry. We have John saying lurkers Yep, we have oh, Cynthia Says what kind of what kind of Corvette Tim?
TIM 42:33
I have a C three and 1975 and I got that specifically because that's the year I graduated high school and fell in love with the car so that was my first one my recent purchases a C5 its a 2,003/50 anniversary edition so high and then we have my hobby got the core vintage as well didn't realize it was. Yeah, that's a slippery slope. Be careful.
GAIL 42:57
Yeah. Oh, we have brought on another person in the house. Look who's here to its Brian Forster so many skills are transferable Brian. For those of you please go follow Brian as well. He has a new video series. He is rocking video and humor. I met him actually because of you Tim, you've led me when he was doing something Cavalier and always loved him. He does some really funny things we need. We need more of that in the world for sure. Love the transferable skills come so true. Tim and so important. Have you gone to the Cayman Islands to scuba Overbeck to scuba? Have you been to Cayman?
TIM 43:32
I have actually been all over the world. I've yet to do the Red Sea and the Great Barrier Reef in Australia, two of the main things I've been to Micronesia and Philippines and Caribbean. Yeah, I've had lots of fun doing it. Yes.
GAIL 43:45
She's here to share some of that on LinkedIn, show some photos and do a little transferable skills about; see you already have a transferable skills vote on what you've learned from diving. Write that down, there's a post idea and we might know Mike TGIF on Wednesday with Gail or Mike has said there are more Tuesdays with Mauren than he said Wednesday so Gail so thank you Mike that is very sweet. Came here and did the old car thing and made a local mechanic a ton of money along the way. And Tim you are using your own you are making this part of so I know on a Saturday or sometimes doing some work on your cars.
TIM 44:29
Actually Sunday was my morning. I got up Sunday morning because Saturday usually comes to work for half a day. And Sunday morning I would get up and cook a big breakfast early in the morning and put a pair of coveralls on and and spend the day tinkering and to Kim's comment I do everything myself except when I get over my head and then I load up the trailer and take it to that mechanic you're talking about it makes a lot of money to fix what I can't
GAIL 44:52
and this is so true. See Ken said you need another show so you can hear about all this dieting event. See if people want to know this stuff. We will Want to see photos? We want to know? The stories he must have? Oh, yeah, we I'm sure there's some that maybe won't always be shared on a show like this today, but And yes, he is to go over this fantastic. Thank you, Mike. So let's do a quick touch base because I want to get your daughter Amanda's name. But you have two daughters. So which I just learned. One is doing great work behind the scenes, and one is doing great work. And on social media more out so can you maybe talk a bit, look, just highlight them. So we can give a mention even just a first name, but Amanda Galbraith is on Twitter and loves her stuff. And please go follow her there.
TIM 45:50
Yeah, I have two wonderful daughters. And one, as you said, is behind the scenes, and that's Elizabeth affectionately known as Liz and she's just a brilliant witty young lady, maybe I'm a little biased, but not too much. And she works in the insurance industry. And she works from home, but out of head office in Toronto, and my oldest daughter, Amanda, is two years older than Liz, is 20 months older than Liz lives in Toronto, and she went away to school in Ottawa and fell into politics and ended up volunteering in some areas. And it turned out to be a career for us. She ended up working in the prime minister's office and for a couple of MPs in communications and segwayed her life into a consultant, and she's a consultant with a crisis management company right now. And her specialty is media relations. And she does radio and TV and stuff. She actually has a nationally broadcast show on iHeartRadio. That's even featured here in Windsor on Fridays. So again, both my kids I love to death, and they're both the apple of my eye, and they both did well.
GAIL 46:58
That's amazing. I love that. You know, the work they're doing, and especially your daughter doing more of the omelets work like the work behind the scenes, and when doing in front. It's interesting, and I think probably got the best traits of both you and Sharon, I think just I haven't met your daughters yet. But I look forward to one day meeting them because I think I would just love to just, there's so many conversations, I could already have them on the show. And we just touched on we're not going to probably get just because of time but I mean, obviously you're also involved. There's the whole political realm. There's lots going on right now, we're probably not going to go too far down that rabbit hole today, just because there's so much happening. And today really is more about showing up and talking about Tim, as you know, the sales manager at Cavalier. But I think now this has been touched upon, I think, but maybe we can announce this officially today since it was in your bio. So Tim, you've been How long have you been a Cavalier,
TIM 47:57
nine years, just put nine years next month.
GAIL 48:00
And this is also well, I'll let you talk about the public information just so I don't step into any landmines and say something I have no idea what you're talking about, oh, well, the general managers…
TIM 48:18
I've had a great run in Cavalier as a sales manager and been part of a phenomenal team here. And I, I can't tell you how, how much these are just words. It's a great team, both the management team and the group that I have working for me, some of you are out there listening right now. Brenda Quinto is our general manager who has been just fantastic and helped lead the company and she's retiring and I will be segwaying into her position and trying to fill the shoes that she has left behind. But yeah, that'll be my next accent. I'm expecting my last position, because I was actually going to retire, but decided to do this instead.
GAIL 49:02
Well, you do a big shoe slash heels to fill in and we'll do a shout out because I think it would be highly unlikely I'd ever get Brenda on a show like this. But working with her seeing, you know, the role that she's had as general manager, it is phenomenal. She has a great story. Maybe one day I would love to get her on because she has really a great story in history of the work that she's done at Cavalier and, and you know, I also exciting that she is going to take some time to go and I know I've talked her about this and do some of the things that she still wants to do ahead so in case Brenda you're out there I think we wish you well on that journey because I think it will be you're gonna have some some fun times as well ahead.
TIM 49:50
Just for the record she's out there. I prefer she stayed. I can keep doing what I'm doing. She keeps doing what she's doing the status quo would be maintained. All would be happy.
GAIL 49:57
I think many people if that was gonna happen it would have happened. But yes, I think that would be no offense to you too. But yes, I'm sure. You know, Brenda certainly has. And she's definitely someone who shows up in a different way. Not necessarily publicly, but she does. She's one of those people that does so much in her life, she definitely doesn't want to be in the spotlight, but deserves to be in the spotlight at times. But we try to honor her wishes, don't we? We do. So the general manager role. So that's going to be some changes to your world for sure. Let's go over to some comments just before we circle back, and we'll start to wrap up the question I usually end up with. Now we talked about transferable skills. I love the skill that you talked about with diving and being able to, you know, learn about what happens when you get into that anxiety situation. And that is probably the number one item from today. I think everybody can take it when that starts to happen. It's not so much that it happens but how do you turn it around and get back on track?
TIM 51:13
My next meeting was sending me a message to apologize.
GAIL 51:18
It was just a statement not a question. So the next question. This was said congratulations on your new role. The next question you can think about while I'm going through the comments is how do you exercise your curious brain that's usually how we wrap up. So let's go back Kim wrote, Tim, such a proud papa and it's so important to give your kids a shout out and let them know how proud you are of them. Yes, and anyone that knows. Tim knows he is extremely proud and talks so high we owe his family and Sharon and his daughters and grandchildren met so we have more congratulations from Cynthia. We have seen races need to take off Rachel Gail Tim loves your perspective and contribution to the industry. Congrats on your new role. Thank you Ray ,Ray is another person like you that brings so much history and background and knowledge into the industry which is needed. We had Katie, thanks for letting me sit in again. I'd love to hear about manufacturing the humans behind it. Yes. And that's something we need more of, we need more of humanity and showing that in content stories video. John says congrats Tim. I'm headed into my weekly webinars. See you next time. Gail. Kim says congratulations are well deserved and earned. Hey, I'm always open to connect with fans and manufacturing lurkers or otherwise, raise a gun on me too. Okay, great. So before we wrap up, Tim, how do you exercise your curious brain? Well,
TIM 52:48
my brain has always been curious. And Brendon spoke right outside my door here making faces at me. So would you come on in and join the podcast? Oh, no. Okay, I've got to get Brenda on. I'll give you a little bit. And I know we're taking up valuable time. But my daughter also does a hit on 1010 News Talk and in Toronto, and wanted my wife to come on yesterday on her show to talk about a subject that I won't go around on anyway. My wife refused. She's absolutely not. So she gets a call in the afternoon. Hang on, we'll put you on hold. You're about to go on the air. So complete surprise to her that she had the one of the people in the control room call her up, and immediately switch her on to the air and she did her hit on the air and was very happy and proud of it. So maybe that's the secret to getting Breton on your show. To answer your question about curiosity, and I'm going to tell war stories is going to give me more stories that they tease me about here. I've always been curious. That's what led me to learning how to dismantle Corvettes. What took me to learn  how to scuba dive, but I started young. When I was a kid. I was the guy that read the dictionary. I would sit with a dictionary when I was a little kid and look for words I didn't know and read the definitions and understand what they were because my mother was British and spoke very, very well and eloquently and I wanted to understand big words. So that was my way of being curious. I read Winston Churchill's biography when I was too young to understand who Winston Churchill was, because it sounded like an interesting thing to do. Being curious is what keeps us motivated. Being curious is what keeps us going. And if you're not asking why, if you're not asking how they are accepting the status quo, and you're not moving forward so curiosity is key to success in any industry in any aspect of your life.
GAIL 54:38
I love that you probably hear that my cat is deciding to join curio and by the way curiosity did not kill the cat. That's actually it over time because I had to go research that because if I was going to talk about curiosity, being a cat owner and my cat has now come into my studio she's just said hi. I came talking about something that was gonna kill the cat. So it actually didn't, it was actually a worry that killed the cat and there's a whole history which I won't get into of why that is how that story got changed. There's a little bit of politics to it. And Tim, one of the things I absolutely must say about you is you are curious, you are open to hearing ideas, even if people don't necessarily agree with you or you agree with them, you are still open to listening. And, and I congratulate on that. That is something I'm going to be talking a bit more about in the future looking at how one of my favorite quotes, it's a Walt Whitman quote. And it was, you know, being curious, not judgmental, became very popular on the show Ted lasso. And I am going to post this. We won't get this much today. But I think this is a good quote. So they would leave people with and you probably know what it is. And I can find it here if I can find it on. It's a quote, I first heard from you, and maybe in a future show. We'll talk about this because this is
56:11
This is why I need a show producer. We talked about quantum theory. Okay, I cannot find it now. But it was Why don't you I know, you know, the quote, I'm talking about the Margaret Mead one
56:21
with Margaret Mead, one. Never doubt that a small group of dedicated individuals can change the course of the world. Because it's the only thing that ever has. Yes, there we are. They freeze out a little bit. I'm not sure if that's
56:36
there. It's good, but it is. And this will probably be the topic of a future show I may be doing and we'll maybe that is what I'll also have. Foreshadowing what we'll be talking about. Because I am fascinated by this type of quote, as well as be curious, not judgmental. And as you know, I do research, I spend a lot of time digging deep into issues stories. And I really like to know, I like to be in the notes. Sometimes it can be taxing on my brain. But it also, I always think it's going to help with Alzheimer's one day because I will always be digging deep. And I actually also spent time reading a dictionary growing up because I wanted to take part in it. I used to read a lot too. And I went through just about every book in the library and went on to spelling bees and used to do really good at spelling bees as well, because they were fun. And so challenging. Tim, thank you. This has been an amazing show, amazing to have you come in. I'll just see if there's any more comments. We've got lots of people, we have Adam Baker saying thanks for letting me lurk. We have Cynthia saying I have done that too. I'm not sure about the cheers. Cheers to asking why and how? Yes, we have another incredible session. Thank you all. Thank you, John. That's a good quote to leave this on as well. And, Tim, I'm just going to have you go now, did you say you have another meeting to go to? Or do you have time to meet me in the green? Or do you have to go?
GAIL 58:13
I'm going to just let you go to the green room. And then you can just sign out. And I'm sure I'll be talking to you soon. And thank you today for stopping by and listening to my story as well.
GAIL 58:24
Okay, thanks. Damn. Wow, that was a great show today. Tim is one of someone that I would actually also call a mentor to me, he's been so helpful in introducing me to mold making to the world of manufacturing. And now that I understand his background a bit more, I knew some of it, but not all of it about how he got into this world. So great for. And I'm just going to let me just go back up here. All right. So if anyone needs further help, you need help telling your story, you want to talk about my sign up, suit up, show up, please get in touch. Please pass it on, if you know of anybody needing help, especially in manufacturing, as Tim talked about, one of my specific goals is always about being able to tell the stories of manufacturers from a different perspective. So it's not just about a one way conversation, it is about digging deep into, you know, all of the fascinating aspects of manufacturing, having some more fun using video using engaging approaches. So it's not again a one way conversation with you actually talking to people along the way. So that is what I find fascinating. And we're going to now start to sign off. Thanks, everybody for all the comments. Thanks for showing up. Please connect with everyone in the comments and I'll see you next week because we have another great guest next week so stay tuned and make sure Wednesday at 1pm Eastern Standard Time. TGIF on Wednesdays with Bill now. Thanks for that Mike. Have a great day everyone.
Polaroids to Digital: Marketing paves way to show up for big wins