Showing up online can unlock opportunities for anyone, regardless of who you are or your station in life! 
So, what does it mean to show up?
If you look up the phrase, you will find the following: to show up means to be conspicuous or clearly visible.
A few years ago, Rachel Wilkerson Miller, a journalist-turned-self-help-author wrote a book about showing up. According to her book, "The Art of Showing Up – How to be there for yourself and your people", showing up is defined as the following:
"Showing up is what turns the people you know into your people. It's at the core of creating and maintaining strong, meaningful bonds with friends, family, co-workers and inter­net pals. Showing up is the act of bearing witness to people's joy, pain and true selves; validating their experiences; easing their load; and communicating that they are not alone in this life. It's a concept that I experience on such a deep-rooted emotional level, I sometimes struggle to describe it. I know it when I see it, and I'm betting you do, too." 
It is therefore safe to say that showing up online is the act of creating and maintaining strong meaningful bonds with people with whom you build relationships with and meet online.
It is vital we Sign Up.  Suit Up.  And #ShowUP
A recent guest on my live show (#ShowUp with GailNow), Mitch Jackson is an awesome example of someone who truly shows up online! He and I met through the Speed Networking segment at a Social Media Event that had nothing to do with manufacturing or law (the sectors in which we both work)!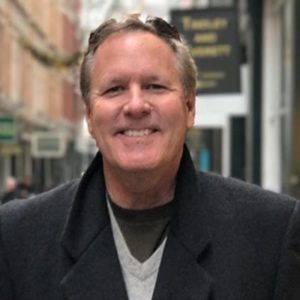 He is a disruptor; he applies  his 35 years of practicing law to help and add value to consumers and clients who are doing the digital dance at the intersection of law, business and technology, including the Metaverse and Web3.
This award-winning trial lawyer has been described as the one of the best in the world at using social media! He has spoken at various events, including the Tony Robbins Business Mastery event several times and appeared as a guest or shared expert commentary on shows with Katie Couric, Anderson Cooper, Seth Godin, Peter Diamandis, and Gary Vaynerchuk.
Mitch is a consulting expert to the book, "Shame Nation," written by Sue Scheff with the foreword by Monica Lewinsky and, a contributing author to the California Continuing Education of the Bar (CEB)  "Effective Introduction of Evidence in California- Chapter 54 Electronic and Social Media Evidence.

  During the show, something that came to the fore is that Mitch is truly a champion for sharing one's story. Here is an excerpt from our discussion:
"…when the internet rolled out, we put up our first website around 1995. And about eight months later, and by the way, doing so allowed us to be one of the first law firms not only in California, but across the country that actually had a website where we are interacting with clients, we're doing what back then they were called bulletin boards. And within about eight months, a million dollar case came into our law firm from that website. And once again, I'm like, okay, maybe there's something to this internet thing. I love people. I love having conversations. I love storytelling. That's why you and I connected. I think we have very similar personalities."
Mitch believes that it is pertinent to show up online and having a digital footprint is something we should do!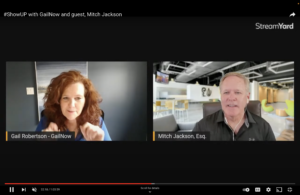 "… digital has changed my life. It's changed the trajectory of our law firm, and I don't care what you're producing, manufacturing, selling or buying. Having a digital footprint in today's global economy is just such a smart way to spend your day."
So, what is a digital footprint? According to Wikipedia, a Digital footprint or digital shadow refers to one's unique set of traceable digital activities, actions, contributions and communications manifested on the Internet or digital devices.
During our discussion, Mitch mentioned that showing up online and developing a digital footprint has opened up so many business opportunities for him and his firm. He also mentioned that it allowed them to expand their brand, from local to global and for them to meet fascinating people from all over the world.
Mitch even listed a few different things that happened to him as a result of his digital footprint:
8 months after putting up their first website in 1995, his firm landed a million dollar client through the website. 

He was invited to participate on the first live video platform called Spreecastand as a result, found himself  on shows with Katy Couric, Anderson Cooper, Peter Diamandis and Gary Vaynerchuk.

His experience on Spreecast also allowed him to meet one of the founders, Jeff Fluhr, who is also the co-founder of StubHub, which is a major American ticket resale company.
As Mitch said, "I think what matters is the ability to make new relationships and build our brands, and create new opportunities, you know, by wrapping our digital arms around these digital platforms."
Tradition, especially in the law, means a great deal.
Traditions bind us to people and ideas that came before us. They can attach meaning to the things we say and do. Unfortunately, tradition can also hold us back from addressing decisions that need rethinking. It's acceptable to begin anew every once in a while.
Most people start law school intending to end up as a "traditional lawyer." Whether they envision themselves attending to cases in court, drafting contracts, or otherwise serving the needs of the inadequately represented, they imagine reading, writing, and standing up for their future clients.
Most law schools also plan for you to end up as a "traditional lawyer." 
Mitch is anything but a traditional lawyer! 
Although he practices law, he also truly shows up for himself and others online. As previously mentioned, he helps and adds value to his clients through the Metaverse and Web3, which is definitely not mainstream at all.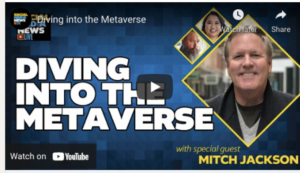 According to an article on Forbes.com, these are two terms that are generating a great deal of hype and excitement in the world of business technology today.  
Here are the definitions provided:
In simple terms, web3 is the decentralized internet – built on distributed technologies like blockchain and decentralized autonomous organizations (DAO) rather than centralized on servers owned by individuals or corporations.
The idea is that this will create a more democratized Internet. No single entity will control the flow of information or "pull the plug" and kill a network, simply because they can as they own the hardware it's running on.
The metaverse (or just "metaverse"), on the other hand, is really, at the moment, a shorthand for virtual worlds, where users can interact with each other and engage with apps and services in a far more immersive way. The term "metaverse" first appeared in Neal Stephenson's sci-fi novel Snow Crash, where it described a virtual reality world.
When asked why he approached serving his clients in this very non-traditional way, Mitch responded as follows"
"Number one, I'm doing it because the consumers that are tapping in and watching the show or listening to the podcast, or watching this presentation in the metaverse, they're getting a kick out of this new information and what they're watching happen in real time. And then they're gonna know that we're actually good, genuine human beings who care about our community that care about our country. And I think from that comes the business from that comes to sales. from that comes the relationships and the new opportunities that just aren't there. For people and companies that go through life with these binders on where it's all about me, it's all about me, it's all about me, that's great. But I don't think that's the formula or recipe for a life full of tasty biscuits. I just don't think that's the way to roll."
He also shared an important story about how he started Hang gliding:
"So I grew up in Tucson, Arizona. During my high school football senior year, I was at a practice in August. It was probably 115 degrees and I was wearing full pads. This is back in the day where the coaches didn't really let us drink water because it was making us tougher, you know. Next to my school was a mountain. I looked up during practice and saw these hang gliders. This is back in 1974/75. Watching these hang gliders fly off of a mountain in the cool desert breeze and thinking to myself, "That looks so cool; It's like they're flying around like eagles! This was just a few years into the sport. A buddy of mine remarked, "You know what? That could be us. We need to take hang gliding lessons!" We asked our moms and dads and they probably didn't know what we were getting ourselves into, but they said it's fine. And so the following week, we found ourselves down at a place called summit hut in Tucson, Arizona, that taught hang gliding lessons, and it was called Ground School. We did four weeks of evening ground school and we started to learn what hang gliding was all about. 
Fast forward to about a month later, we were down in southern Arizona running down these big grass hills, with these hang gliders on our backs. All of a sudden, our feet were in the air and we're not touching the ground anymore!
That was pretty cool!
Fast forward about a year after that and we were flying all over Arizona and California, and had acquired our expert hang gliding ratings. We were flying for hours at a time, miles above the ground. 
Looking back, it was one of those situations where it was something I would've liked to do, but never thought I'd be able to. It would never have happened if I hadn't taken those first steps! I don't need to be an expert hang glider pilot, but I'm glad I got to taste the sport and see if it was for me. 
What I learned from that is this: oftentimes, it's just a matter of taking short, easy to digest steps. One step at a time, not really knowing where it's going to take you, but you're enjoying the journey and you're having fun while you're doing it. I think that's super important!"
I think that's a good reason to learn anything or to show up: it's a matter of taking small steps and learning as you go! You don't need to be an expert, but you can explore and learn something new. As we all know, growth doesn't happen in your comfort zone!
So next time you find yourself thinking about showing up online: don't agonize too much! 
Instead, just start telling your story. Stay in your comfort zone at first, then talk about what you know. You may be surprised at how easy it can be to attract people when you are just being you because you know more than you realize!
We all have potential to be great, but we have to start! We have to be curious AND we must #ShowUP!!!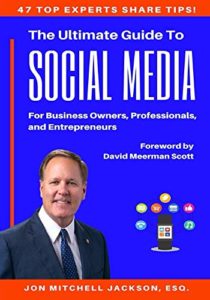 Build brands, create opportunities- embrace digital world with open arms