"What's your biscuit?"
This may seem like an unusual question when talking about social media, but please take a moment to read about my tale and the connection between biscuit and the power of a good story will all become clear before too long.
For most people, the concept of "home" is one of comfort.  If you were lucky enough to have a decent childhood and a caring parent,  it is an easy memory to conjure up.  But even if you didn't there is something about  safety and security that can be translated in the form of something home-cooked.
If we were really fortunate, our parents would pass down certain things to us, including recipes that might possess a little of that heartwarming magic and allow us to fondly remember them as we grew through the years.
For me, one of my most treasured memories is my mom's homemade biscuits, which I refer to in my recipe file as Grandma Joyce's Biscuits.  I only came to realize their additional importance and value as an adult. 
Those biscuits were made with great love by my mom. In turn, I have very happy memories of her making them and myself , family and my friends eating them! 
They soon proved to be an unforgettable calling card. 
For a few years, earlier in my life, I ran a bed and breakfast and my "Gail's Famous Homemade Biscuits" were a star attraction.
Although I've moved on professionally from my B&B days, that biscuit story is a staple of some of my workshops when training groups, individuals and clients.  
You see, those biscuits were more than flour, shortening and buttermilk – they elicited memories, emotions and many stories of a bygone era.   
Those biscuits were part of my lifelong narrative and in turn they became an integral part of my brand identity when I ran  my Pelee Island bed and breakfast during my post journalism days. 
With great passion and confidence, I branded them as Gail's Famous Homemade Biscuits.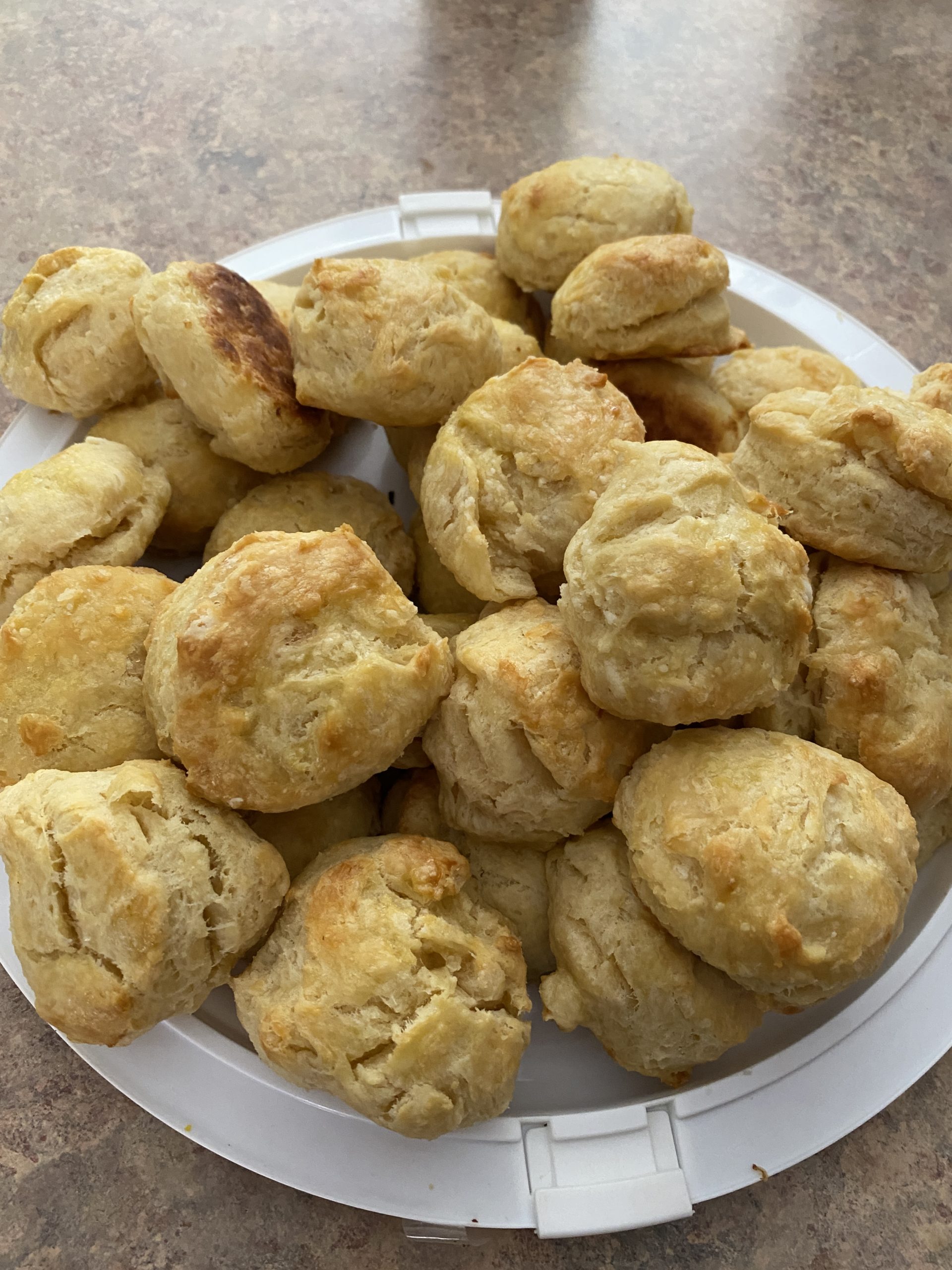 They were a talking point – a conversation piece- and a part of my story as a proprietor of a century-old rustic home in the middle of Lake Erie.   People would return annually and often ask if the famous biscuits would be served.
That was a given: You see – they were now a part of my B and B brand, both as my Twin Oaks Bed and Breakfast and as Gail, the proprietor who greeted guests and welcomed them to homemade breakfasts featuring my biscuits.  Every morning.  
Today, I bring biscuits to client meetings as they not only make an impression but I can show – not just tell – how the power of a good story makes a difference to a business and a brand.  
And let me tell you, due to this small gesture on my part, I'm not easily forgotten. People who have sampled them not only enjoy them – but leave with a story to tell.  A personal story that no one else can replicate because it is indeed unique to me, yet relatable to them. 
To quote Dr. Seuss: 
"Today you are you,
 That is truer than true.
 There is no one alive
 Who is Youer than You."
But there is more to this story beyond my self promotion of biscuits.  
The point is all the warm and fuzzies generated by this action of mine is something that can be extended to social media when you make a connection.
When we're reaching out to potential contacts, people that will hopefully become future allies in your professional network, how you approach them is just as important as why you approach them. 
If you just reach out to them out of the blue, without a proper introduction – or if you want to sell or exploit them for something without investing time in nurturing the relationship – it can have a disastrous result. 
So this is where the concept of the "warm biscuit" comes in handy. 
Unlike the many cookies you tend to receive from websites you visit – individual trackers that contains no nutritional value except for those merchants interested in learning your buying habits – the "warm biscuit" you should employ comes in the form of a story,  a comment and eventually a post where you share something about yourself that displays your humanity and evokes an emotional response from your target audience. It's something that usually doesn't include any hint of a sales pitch whatsoever.
When you first reach out to someone, don't try to "sell" them on anything.  Send them a compliment. Ask if you can follow them.  Learn about their interests and what they have to offer.  Maybe send them an occasional email about something you think they're interested in.
In other words, get to know them prior to pitching them.  And in fact, maybe  just leave the pitch aside until they ask you for information.  
By telling the right story and creating organic interest, you're providing more than just information: you're offering an experience that reveals your philosophy and culture.
And authenticity is the key. According to Oberlo.com, 86% say that authenticity is an integral factor in deciding and supporting a particular brand.
So, think about your own biscuit story – what is it that you are passionate about, that is distinctly natural and something that will draw people to you – something you can celebrate without selling and give rather than take.
The thing that makes you "youer than you."  
There is no substitute for warmth…so, I ask you again – "What's your biscuit story ?"
Come up with the right one and who knows…you may even earn a lifelong friend out of the deal.
What's Your Biscuit? The Power of Story