My Twitter love affair started over an Apple Watch.  I was off to a convention for the 8th World Medical Tourism & Global Healthcare Congress in Orlando, Florida in 2015.   
I had under 100 followers on Twitter and I mostly lurked in the shadows; some say stalking but I prefer observing. 
I stepped on to the convention floor and heard about this contest to win an Apple Watch:  whoever had the most tweets, the most social media activity would win the watch. 3,000 people at this conference. What are the chances, I thought.  Then I looked around as I stood there in my long red evening gown dressed up as a "Bond Woman" for our 007 themed booth and thought: well I've come this far, what are a few tweets, tags and hashtags.  Oh and a snake.  I posed with a snake too!  
Images get a a lot of engagement; if it was 2020 I would have for sure posted a video!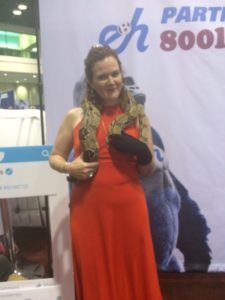 It was my first connection to the power of social media directly related to work; the power of connecting both virtually and in person. As I look back I realize it launched my GailNow brand at an international level!  
At this same conference I heard David Meerman Scott speak and met him via a Selfie.  I followed him – and he followed me back!
Recently I heard him on a the Creative Warrior podcast with Jeffrey Shaw (@jeffreyshaw1 ) so I retweeted that selfie  from 5 years ago. He responded:  "Wow! Great memories. I can't remember the last time I wore a tie. Glad Jeffrey reconnected us."
Then Jeffrey responded with: Glad you were able to meet DM Scott! One of my favorite authors.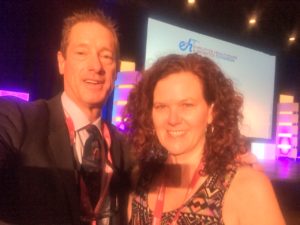 This small exchange is why I love Twitter. There are connections made that don't happen in the same way on other platforms.
When I started my consulting business in 2018 I opted to use GailNow as my business name since I had built up the brand on Twitter.  I credit Twitter with helping me make connections and develop a brand. Twitter fits in well with my diversity of interests, my love of networking and I can be both serious and fun. As a keynote speaker I also talk about the power of connecting. Oh, and curiosity to help with marketing in sales and recruiting. 
(And yes, I did get that Apple Watch.) 
I was a late comer to Twitter. It launched in 2006.  I had only been just figuring out Facebook. For networking, it's nowhere near the same league as Twitter. 
Facebook is for people you know but Twitter is about connecting to new people, reading interesting commentary, participating in Twitter chats and meeting people I might never cross paths with otherwise. 
"330 million active monthly users in Q1 2019, but Twitter has switched to reporting 'monetizable daily users', of which there were 145 million in Q3 2019" – Read More.
Twitter has high value for connecting different types of audiences every day.  It can help tell a brand story AND connect you to people you might never thought possible.  
Ricky Gervais has liked a few of my tweets.  I am a big fan and now even bigger one. I tweeted a video message to him that as of July 2020 had 1,986 views; 14,960 impressions and 163 engagements. (He has over 14 Million followers, does regular live events on Twitter and just "gets" Twitter! It is a very powerful platform to achieve a wide range of goals if you know how to maximize and use it wisely.  Twitter can get you results – but first you need to build relationships.  
How Twitter can connect your brand to an audience 
93% of Twitter community members are open to brands getting involved, if done so in the right way  according to Omnicore Agency.
67 percent of all B2B businesses are using Twitter as a digital marketing tool (Statista, 2018). And 85% of small and medium business users use Twitter to provide customer service.
The effects of social media opened the door to brands communicating directly with consumers – making the customer service relationship more direct and appearing sincere. Clients can already express their thoughts and feelings to different brands and with each other.
Blog.twitter.com says 77 percent of Twitter users have a better impression of a brand when they respond to a tweet.
Six out of ten users expect a brand to respond to any customer service requests within one hour. The last two years have seen a 2.5x increase in customer service conversations on Twitter.  Companies using Twitter for customer service see a 19% lift in customer satisfaction.
I have personally contacted brands via a private Direct Message (make sure to have that envelope on your profile) and I have had issues addressed and resolved.One company even sent me two large bags of coffee when I reached out about a problem with a purchase of coffee beans.  
So kudos to Lavazza Coffee   Interestingly the issue started on Twitter, went over to email and a further conversation developed with the Director of Customer Logistics and Technical Services for  North America, Chris Milano. Well done Lavazza, well done.  
I have met new people, shared insider info and certainly developed some long standing connections that moved to LinkedIn, email, phone and Zoom. The networking opportunities on Twitter are exceptional.  
It has become essential for brands to properly engage clients, and future clients.  And also to connect to people who can introduce you to their circle. 
Often in my work in sales and recruiting there is an urgency for immediate results —  for the quick sale, the quick hire. But people aren't always wanting to buy that way or even accept a job like that.They want to first build a relationship and in fact, studies show people buy from people they like and know. Word of mouth advertising is phenomenally successful. Check out Jay Baer.  
Ditto for hiring: people want to know about company culture, benefits and not only money or a job description. Twitter offers an opportunity to build rapport, to connect to people beyond the hard sell or hanging out a "We're Hiring" sign. It is all about sharing stories and finding ways to connect. 
Know how to use Twitter to open doors – build relationships – and you too may find the magic of Twitter.  
There are 500 million Tweets sent each day, making it 8,414 Tweets every second. (market.us, 2020) and generates +31% higher emotional connection and +28% higher levels of memorability versus the social media average, according to brandwatch.com in 2019.  So, connecting with each other is not so rare in Twitter where audiences can form communities and interact with each other via  similar interests. 
Some of the people I have met on Twitter have transformed my world.  People like  Madalyn Sklar, Nathalie Gregg,  Kristin Smedley 
I appreciate what they share on Twitter  and as a consultant and keynote speaker, I often reference what I learned from them.  
After meeting Kristen via Twitter I was invited as a guest on her Facebook Live! We continue to keep in touch – all from a Twitter connection. And a Twitter Chat!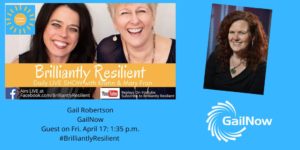 According to Madeleine Mason a psychologist and director of dating and relationship advice company PassionSmiths said Twitter connections account for similarity (you follow people you feel you have something similar with), proximity (Twitter gives a virtual sense of proximity if you tweet enough times and 'bump into each other'), and when you go to DMs, you then start reciprocating one another's 'bids' for communication. Before long a deeper connection ensues. (Metro.co.uk, 2017)
Some people connect on Twitter, then become friends in real life. Nikhil Krishnan, Senior analyst in CB Insights said "The new people I meet, about half of them I first connect with on Twitter. I make a point to get a coffee or a meal with someone new from Twitter once a week, and Twitter has also become my primary way of finding interesting things to read. Twitter is unique among social networks in that you don't bring your existing connections with you onto the platform. Because of this, Twitter is much more focused on people's ideas, while other social networks are more focused on personal life updates from friends," in an article on qz.com. 
And others meet on Twitter then date after. The hashtag #WeMetOnTwitter, has been used 500 times (stat as of 2017) in Twitter posts according to the social media tracking tool Keyhole. I do not use Twitter for dating but apparently it's a thing. Maybe a future blog! Maybe a future… date!  
Twitter is a powerful tool in connecting with each other:  one like, retweet, comment and you are  connected with someone's  thoughts;  maybe  even meet a friend or future client. 
How to harness the power of Twitter 
One of the powers of Twitter is the ability to obtain essential information directly from users. 71% of Twitter users say they use the network to get their news.  Journalists make up 24.6% of verified accounts, according to BrandWatch. This makes Twitter one of the most powerful platforms of connection and information. 
Getting  first-hand information is important to people. It is even the choice of the platform of world leaders, where 83% of them have official accounts  giving direct opinions on things and events.
It is powerful: information travels fast and can educate, inspire, motivate and bring people together from around the world. You can use hashtags, twitter chats, video, Direct Messaging. 
If you want to learn more about Twitter there are many free resources, many people willing to help. Many of us are more akin to Twitter Evangelists.  We want to encourage more people to join, to connect and to realize the power of Twitter. There is much info online – and here is one person I can recommend for her knowledge, her generosity of spirit and she is so willing to help and she has a most amazing Twitter Chat every Thursday at 1 p.m. called #TwitterSmarter. (Ask me if you want to know more) 
www.madalynsklar.com 
Make sure to say hello to me on Twitter, mention this blog and share your Twitter experiences.   
You can connect to the world!
How To Connect To The World