What are the limits that hold you back?
Merriem-Webster Dictionary defines a "limit" as something that bounds, restrains, or confines.
So are we responsible for these limits?  How can we tap into our infinite potential?  
Recently I was invited as a keynote speaker at Women in Aerospace Conference put on by the Pacific Northwest Aerospace Alliance or PNAA Their  theme  Beyond all Limits hit home for so many.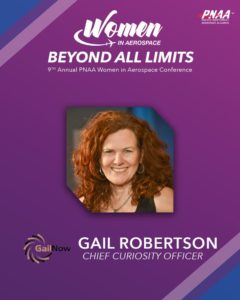 It was an honor to start the day off with my  keynote address, entitled "Is the sky really your limit?". 
We hear the sky's the limit and I wanted to explore that idea – it sounds so easy until we get met with roadblocks:  societal pressures, judgment from others, side comments and pushback when we do try to own our power.
The foundation of my work centres around curiosity and my three step process:  Sign up, Suit up, Show Up
People need – and must – tell and share their stories.   
As a recovering journalist I can bear witness to the fact that everyone has a story worth sharing.  And it is how we can start to explore limits and how they can too often hold us back. 
Limiting beliefs- from others AND from within our own heads-  destroy so many good ideas.  These limits can inhibit us and prevent us from achieving goals, taking risks and living our best life IF we allow them.   
I gave examples of how we can all   exercise our curious brains.  I cycle,  listen to podcasts (a favourite(Hidden Brain)) and strive to listen to people  I may not always agree with.  
During one podcast with Jeffrey Shaw  – on his former Creative Warriors Podcast now called Self-Employed Life,  I heard  Paresh Shah of Lifter Leadership speak about the benefits of taking cold showers. Hearing this inspired me to do some research, learn more about it and start my very own cold shower journey! (more about that later!)   Paresh was also featured on my #ShowUP with GailNow LIVE show.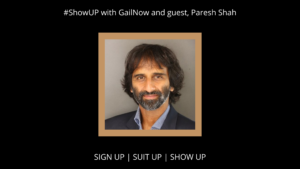 If we aren't curious it is also harder to be tenacious and we can give up way too soon! 
The author of  the book series, "Chicken Soup for the Soul", Jack Canfield almost never became an author! His  books almost never saw the light of day because he sent them to 144 publishers, who all proceeded to reject his pitch! However, he didn't give up and eventually did get published. One of the principles in another book of his, "The Success Principles", is Transcend your Limiting Beliefs. Jack calls those beliefs false conceptions and even said that limiting beliefs are all bullshit!
I also shared about other men who we have revered and celebrated, but initially failed:
Thomas Edison, who invented the lightbulb after failing 999 times

John Grisham, whose first book was rejected 28 times 

Henry Ford, whose first two automobile companies before establishing the Ford Company that we all know about now!
Many of us have failed at something, even multiple things, but are still standing, right?
So what does "The sky is the limit!"mean"? 
According to Collins Dictionary, it means the following: there is nothing to prevent someone or something from being very successful.
In my opinion, being successful means showing up to the fullest extent. In my work in manufacturing, I help companies tell and share their story (show up) by embracing curiosity to ask questions and use my three step process, sign up, suit up and show up!
The Merriam Webster Dictionary defines sign up as follows:
to sign one's name (as to a contract) in order to obtain, do, or join something 
The same dictionary defines suit up as follows:
to put on a uniform or special clothing
I define show up to mean stepping into the position that you have created by signing up and suiting up because all this has prepared you to take your place with confidence and to show up when called into the spotlight!
In speaking to women (and men) in Aerospace, I did share  stories of various women who overcame the limits that they and others placed on them.  By not giving in to societal pressure, they did  flourish and become successful in their own rights.
One Wonderful female role model named Margaret Anne Bulkley  took on a male persona (Dr. James Barry) in order to study medicine in a time when women weren't permitted to do so. She went on to reach the rank of Inspector General in the British Military and stationed in Cape Town, South Africa and also a pioneer in her field of medicine (she was the first doctor to successfully perform a cesarean section and both mother and baby lived). Yet, she went to her death with her secret that was discovered when a post-mortem was performed.
Another woman,  Bessie Coleman was the first African American, woman pilot! She made a name for herself as a pilot who performed flying tricks and was called "Brave Bessie," "Queen Bess," and "The Only Race Aviatrix in the World." She made it her goal to encourage women and African Americans to reach their dreams. Unfortunately, her career ended with a tragic plane crash, but her life continues to inspire people around the world to this very day!
Mary Riddle was another woman who made a name for herself! She was a member of the Satsop and Clatsop tribes, born Nannie Riddell in Bridgeport, Washington. She also inherited property from her wealthy grandfather on the Quinalt reservation, and often introduced herself as Quinalt. She and her two brothers were treated as orphans after the death of her mother in 1905. They were enrolled in Chemewa Indian School, a federally run boarding school in Salem. In 1911, all three siblings were transferred away from the Indian School. Nannie Riddell transferred to a Catholic boarding school in Beaverton, where her schoolmates described her as a funny, adventurous girl.
Throughout the 1920s, Riddell lived a lifestyle filled with freedom, enabled by her inheritance from her wealthy grandfather. She loved her motorcycle and was involved in racing. She decided to become a pilot after witnessing a woman crash her plane, because she wanted to prove everyone wrong who said that women couldn't fly! 
A modern-day woman that I spoke of is Emily Calandrelli. She grew up in Morgantown, West Virginia and attended West Virginia University. As a student, she won numerous academic awards. She became a Truman Scholar and even attended the Massachusetts Institute of Technology (MIT) where she obtained an M.S. degree in Aeronautics and Astronautics, as well an M.S. degree in Technology and Policy in 2013. 
In 2011, Calandrelli was awarded the René Miller Prize in Systems Engineering. As a Harvard NASA Tournament Lab visiting scholar, she assisted organizations in using crowdsourcing to solve technical challenges.
After initially thinking it would be unladylike, she became a host of Xploration Outer Space in Fox's Xploration Station educational block in 2014. In April 2017, she made several appearances on Netflix episodes of Bill Nye Saves the World. 
Then, on August 25, 2020 Calandrelli's educational Netflix series titled Emily's Wonder Lab debuted. Calandrelli filmed the series while 9 months pregnant.
Calandrelli almost let limiting beliefs stop her.  Thankfully she didn't! 
Emily Calandrelli –  aka The Space Gal- embraced curiosity to show up, not only for herself, but for others.
She has built a great following!
Just recently she was in the news for definitely showing up to make change! 
As a woman who breastfed and who used a breast pump, I want to celebrate Emily for showing up for breastfeeding moms!
Emily took a trip after she recently had a baby.  She packed her pump, her empty bottles and some gel ice packs. 
She went through security and a TSA agent stopped her – and said she had to get rid of the partially frozen gel packs. Then he proceeded to ask where her baby was!
What a great example of someone NOT exercising curiosity!
If you have ever pumped milk you will understand why Emily took a stand.
Without those gel packs, even if she could pump, her milk would spoil before she got home to her baby.
She posted online about this, took it down and then decided to repost it.   She showed up. 
Soon she was getting interviewed by media like  Fox News,  CNN and even got the attention of a senator.  And now it has become an even larger advocacy story! 
She, like MANY before her (including Dr. James Barry, Bessie Coleman and Mary Riddle), made a decision to show up, not only for herself, but others!
Curiosity is my superpower. 
It can be your superpower too! 

Showing up can be daunting; channeling curiosity can make it easier. 
Our minds are very powerful and too often we blame inaction on lack of motivation, procrastination, fear, imposter syndrome. 
That cold shower idea from Paresh Shah-  I now call it the  "cold shower principle".  That principle is  part of my  Sign Up, Suit Up and Show UP process.
There is science behind taking a cold shower – and in my keynote I talk about why those in aerospace and in manufacturing canlearn about the power of our minds to  show up in real life and online for networking and sales!
The Cold Shower principle applies  to networking, social media posting and video.  
Taking a short cold shower or jumping in a cold lake or ocean first thing in the morning isn't easy but doing it consistently over time will make it easier.  It is about consistency and commitment.   Ditto for networking and sales. 
It gets easier because you start to see the benefits.
So, take a cold shower; make that phone call; show up on video and remind yourself that limiting beliefs are all "BULLSHIT"! 
As Eleanor Roosevelt once said, "I think at a child's birth, if a mother could ask a fairy godmother to endow it with the most useful gift, that gift would be curiosity."
My gift to you: 
Sign up!
Tell yourself a different story – one in which you are the hero!
Ask more questions: Be curious, not judgemental! 
SHOW UP, for yourself and others!
And ask yourself this: 
Is YOUR sky really a limit?
You can overcome limiting beliefs: Take the damn cold shower